Top 10
experiences on a luxury Antarctica cruise ship
Cruise tips you can trust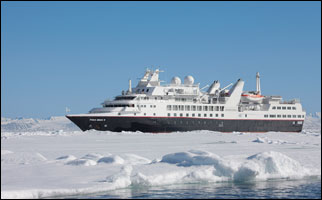 Top 10 experiences
travelers like best about
luxury Antarctica cruise
The ships offer the benefits below. Lower-grade ships offer some but not all of them.

Adventure plus comfort
With Antarctica cruise Zodiac landings, you are virtually guaranteed to see exciting wildlife in their natural habitat - and observe raw natural beauty of awesome icebergs, sweeping glaciers, and towering peaks. To me, it was like being on a distant planet.
What makes luxury Antarctica cruise ships special is you experience this remote natural spectacle on the most comfortable, refined, and well-appointed Antarctica cruise ships that offer Zodiac landings. The decor and ambiance are cozy. The service and food are commendable – and onboard activities are geared for intelligent travelers.

Zodiac landings
Large cruise ships do not conduct Zodiac excursions. They are look-but-don't-touch cruises. On luxury and other smaller cruise ships, you enjoy two Zodiac adventures a day. Read my two Zodiac landing web pages for details.

Lecturers
Luxury Antarctica cruise ships have the finest all-around lecture teams among Antarctica ships. Read my Onboard enrichment web page for details.

Onboard
facilities & activities
Luxury Antarctica cruise ships have two or more restaurants and lounges, quality theatre, and more. On these and other small ships, you relish up close wildlife, seascape, and landscape viewing from the deck. Lecturers stand next to you, eagerly providing insights.

Crew
No Antarctica cruise ship crew tries harder to pamper its guests - and to anticipate their needs - as much as the crews on Antarctica luxury cruise ships.
Click PAGE TWO
for rankings #







Best 3 Antarctica cruise ships
When to go
Who should go - and not go
Small versus big ship
Itineraries
Costs
What-to-pack checklist

Zodiac landings
How to identify penguins
Antarctica history in brief
Interesting facts & tidbits
Glossary
More pointers
Photo gallery

Top 10 experiences
Suite photos
Deck plans
Onboard enrichment
Dining & entertainment
Other onboard activities
Silver Explorer ship

Antarctica Cruise - Home page
Top 10 wonders of Antarctica

World Wonders - Top 100 rankings
World Wonders - Top 1000 list
My credentials
About my website and criteria
Reader testimonials
Site map


World's Top 100 Wonders
World's Top 1000 Wonders
Site map
My credentials
About my website and criteria
Reader testimonials