Antarctica
cruise itineraries
page 1 of 4
Ushuaia departures
Ushuaia is the
leading departure port
for Antarctica cruises
Most cruises sail from and return to Ushuaia, Argentina (see map below).
There are three basic sea itinerary routes from Ushuaia: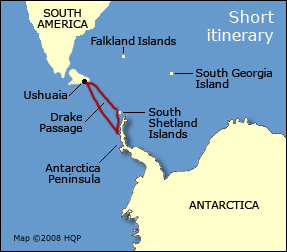 Short itinerary
You sail to the Antarctica Peninsula and, likely, will stop at one of the South Shetland Islands. Typical cruise duration is normally 7 to 10 nights. Note: One of the drawbacks of the short itinerary is you have to cross the sometimes stormy Drake Passage twice. It is 650 kilometers (400 miles) of open sea between South America and Antarctica.

Mid-length itinerary
The Falkland Islands is added to the short itinerary. Cruise duration averages 11 or so nights. As my map shows, it (and the long itinerary) makes only one straight-across trip through the Drake Passage.

Long itinerary
South Georgia Island is added to the mid-length itinerary. Cruises are normally 14 to 20 nights, though some last four weeks. Unlike the Falkland Islands, the rugged South Georgia Island scores high marks from both passengers and lecturers. It's renowned for spectacular wildlife.
Click for more itinerary pointers
PAGE TWO - Ushuaia - Which is best route?
PAGE THREE - Destinations - Peninsula
PAGE FOUR - Destinations - Other


Best 3 Antarctica cruise ships
When to go
Who should go - and not go
Small versus big ship
Itineraries
Costs
What-to-pack checklist

Zodiac landings
How to identify penguins
Antarctica history in brief
Interesting facts & tidbits
Glossary
More pointers
Photo gallery

Top 10 experiences
Suite photos
Deck plans
Onboard enrichment
Dining & entertainment
Other onboard activities
Silver Explorer ship

Antarctica Cruise - Home page
Top 10 wonders of Antarctica

World Wonders - Top 100 rankings
World Wonders - Top 1000 list
My credentials
About my website and criteria
Reader testimonials
Site map


World's Top 100 Wonders
World's Top 1000 Wonders
Site map
My credentials
About my website and criteria
Reader testimonials