Other onboard
activities on an
Antarctica cruise
Cruise tips you can trust
There's more
to do than you
have time for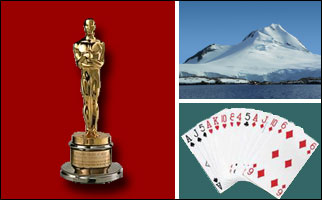 Enjoy the changing scenery
Each hour of cruising brings into view new spectacular Antarctica Peninsula vistas. See and photograph them from the deck, cabin, and dining table.

Watch a good movie
in the theatre
Current and classic films plus Antarctica-related documentaries are shown in the comfortable theatre.

Watch it by yourself
You can enjoy the movies in your cabin, thanks to a closed-circuit TV system. And, the reception desk will lend you flicks for your cabin's DVD player.

Play bridge
Luxury Antarctica cruise ships have comfortable card rooms.

Tour the bridge
Learn how the captain and his staff navigate the ship with the trained naked eye and high-tech electronics.

Pamper yourself
Drop by the beauty salon for massages, sauna, facials, manicures, pedicures and hairstyling.

Fitness room
Work out in the fitness room with a treadmill, weights, exercise bike, and more.
Click blue link for
more onboard activities


Best 3 Antarctica cruise ships
When to go
Who should go - and not go
Small versus big ship
Itineraries
Costs
What-to-pack checklist

Zodiac landings
How to identify penguins
Antarctica history in brief
Interesting facts & tidbits
Glossary
More pointers
Photo gallery

Top 10 experiences
Suite photos
Deck plans
Onboard enrichment
Dining & entertainment
Other onboard activities
Silver Explorer ship

Antarctica Cruise - Home page
Top 10 wonders of Antarctica

World Wonders - Top 100 rankings
World Wonders - Top 1000 list
My credentials
About my website and criteria
Reader testimonials
Site map


World's Top 100 Wonders
World's Top 1000 Wonders
Site map
My credentials
About my website and criteria
Reader testimonials