Antarctica cruise
onboard enrichment
Cruise tips you can trust
A wealth of
educational activities
for the intellectually
curious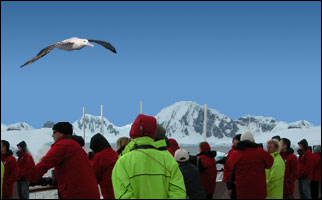 The lecturers and naturalists
on luxury Antarctica cruise ships

The team
No question. Luxury Antarctica cruise ships have the best enrichment teams.

Expertise
Each specialist is chosen for his or her knowledge, credentials, and passion for the
subjects.

Presentations
Antarctica experts visually enhance their lectures and presentations with slides, videos, PowerPoint, and more.

Number
There are a dozen onboard (a large number for an Antarctica cruise ship). This helps you learn the Antarctica basics in a variety of fields including biology, ecology, geology and history.

On-deck presence
They often go on deck to share hundreds of interesting facts and insights with you (see bottom photo above). They also eagerly answer your questions.
You learn, for instance, why the graceful bird species flying over you (top photo) is the legendary Wandering Albatross, the holder of the world's record for broadest wing span: 3.5 meters or nearly 12 feet. They also teach you how to identify the passing whales.
Click blue link for more
onboard enrichment pointers


Best 3 Antarctica cruise ships
When to go
Who should go - and not go
Small versus big ship
Itineraries
Costs
What-to-pack checklist

Zodiac landings
How to identify penguins
Antarctica history in brief
Interesting facts & tidbits
Glossary
More pointers
Photo gallery

Top 10 experiences
Suite photos
Deck plans
Onboard enrichment
Dining & entertainment
Other onboard activities
Silver Explorer ship

Antarctica Cruise - Home page
Top 10 wonders of Antarctica

World Wonders - Top 100 rankings
World Wonders - Top 1000 list
My credentials
About my website and criteria
Reader testimonials
Site map


World's Top 100 Wonders
World's Top 1000 Wonders
Site map
My credentials
About my website and criteria
Reader testimonials