How to identify
penguins
Cruise tips you can trust
Each penguin species
has a unique pattern
Penguin watching is a major activity on an Antarctica cruise. I created the graphic below to help you quickly identify seven major species.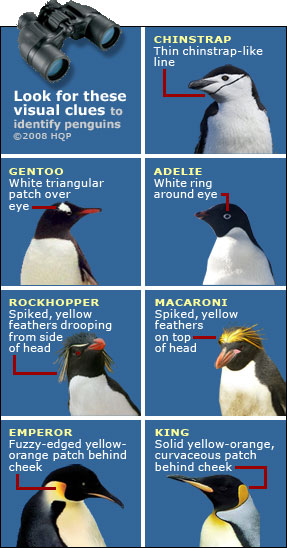 Insights on the
above penguins

Chinstrap
These cute penguins are the sentimental favorite of most tourists. They wear a "helmet strap" and innocent expression. The Chinstrap penguins have a large population and favor the South Shetland Islands, which most cruise ships visit.

Gentoo
You will see this coral-orange beaked penguin on the Antarctica Peninsula and South Georgia Island, and in other areas. The penguins in the box-office hit "Happy Feet" animated film are closely modeled after the Gentoos.

Adelie
This white-circled-eye penguin bursts with curiosity, to the delight of visitors. The population is large. Some colonies number 100,000 birds.

Rockhopper
They are aptly named - the birds hop from rock to rock when climbing steep slopes to reach their high cliff nests. You'll see them in the Falkland Islands.
To learn about the
Macaroni, Emperor, and King
penguins, click
PAGE TWO - Macaroni, Emperor, & King


Best 3 Antarctica cruise ships
When to go
Who should go - and not go
Small versus big ship
Itineraries
Costs
What-to-pack checklist

Zodiac landings
How to identify penguins
Antarctica history in brief
Interesting facts & tidbits
Glossary
More pointers
Photo gallery

Top 10 experiences
Suite photos
Deck plans
Onboard enrichment
Dining & entertainment
Other onboard activities
Silver Explorer ship

Antarctica Cruise - Home page
Top 10 wonders of Antarctica

World Wonders - Top 100 rankings
World Wonders - Top 1000 list
My credentials
About my website and criteria
Reader testimonials
Site map


World's Top 100 Wonders
World's Top 1000 Wonders
Site map
My credentials
About my website and criteria
Reader testimonials