Zodiac landings
page 1 of 3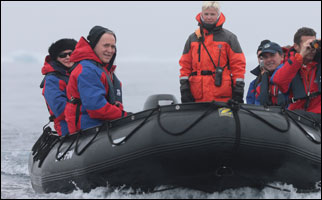 Zodiac
tips & insights

Why a Zodiac is special
This small, inflatable, rubber motorized craft is swift, stable and maneuverable. It's ideal for navigating rocky shallow waters. You get close-up views of places regular boats cannot access.

The ship's fleet
Most Antarctica cruise ships that make landings have 8 to 12 Zodiacs. Each accommodates 10 passengers plus the skipper.

Number of trips
You normally make two Zodiac excursions per day, one in the morning, the second in the afternoon. Each lasts approximately 1.5 hours.

Types of Zodiac trips
Most are landings, others are sightseeing cruises through iceberg-dotted bays and channels.

Wet landings
There are no docks, so you have to make wet landings. This means you slide off the Zodiac into shallow water averaging a depth of 30 centimeters or 12 inches) and walk ashore.

What you see
You observe large rookeries of waddling penguins and their charming chicks, beaches spotted with lazing seals, cliffs sporting a myriad of seabird nests, and spectacular icebergs and landscapes.
Click for more
Zodiac landing tips
PAGE TWO - More pointers
PAGE THREE - Your safety


Best 3 Antarctica cruise ships
When to go
Who should go - and not go
Small versus big ship
Itineraries
Costs
What-to-pack checklist

Zodiac landings
How to identify penguins
Antarctica history in brief
Interesting facts & tidbits
Glossary
More pointers
Photo gallery

Top 10 experiences
Suite photos
Deck plans
Onboard enrichment
Dining & entertainment
Other onboard activities
Silver Explorer ship

Antarctica Cruise - Home page
Top 10 wonders of Antarctica

World Wonders - Top 100 rankings
World Wonders - Top 1000 list
My credentials
About my website and criteria
Reader testimonials
Site map


World's Top 100 Wonders
World's Top 1000 Wonders
Site map
My credentials
About my website and criteria
Reader testimonials