Algarve Coast
Travel tips you can trust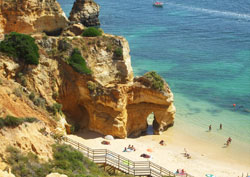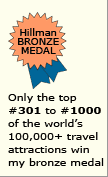 Why the
Algarve Coast
is special
It is one of the world's most popular sun-and-beach destinations. The Algarve Coast is known for its picturesque limestone rock formations (see photo) and its long string of beach resort towns.
The 2 most famous
Algarve Coast resort towns

Albufeira
It sits in the middle the prime Algarve Coast area. Albufeira boasts the liveliest restaurant, bar, and club scene and has good beaches (when not overcrowded).

Lagos
Appeals to sun-beach-and-history seekers. Compared to beach areas farther east, the sea is not as warm, calm, and clear.
Other notable
seaside resort settlements
They include:

Portimao (too large, but is near the famous Roche Beach rock formations)

Sagres (windy, therefore ideal for surfers, not sunbathers)

Vale de Lobo (the region's most luxurious villa-and-marina complex

Vilamoura (a mass-market designer board development).

Tourism
Nearly all Algarve Coast places are touristy, as are all the ones listed above. That's the nature of the Algarve Coast. However, some small fishing villages exist that offer visitors a slower paced, less orchestrated way of life.

When to come
Summer months have good weather, but large crowds. Winter months are often too chilly for swimming. Late spring and early fall are your best bets.

Location in Portugal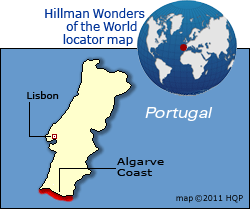 Know these Portugal tips and insights
Lisbon
Alfama
Belem Tower
Jeronimos Monastery
St George's Castle
Near of Lisbon
Alcobaca Monastery
Evora Historic Center
Obidos Castle & Town
Queluz National Palace
Sintra
North of Lisbon
Douro Valley
Oporto Historical Center
South of Lisbon
Algarve Coast
Azores
Madeira Islands
Photo by Pepe Martin - CC BY 2.0

World's Top 100 Wonders
World's Top 1000 Wonders
Site map
My credentials
About my website and criteria
Reader testimonials