Evora
Historic Center
Travel tips you can trust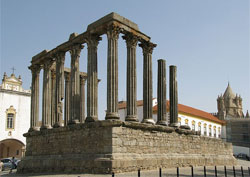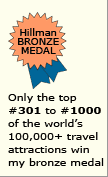 Why the
Evora Historic Center
is special
It has a copious collection of edifices spanning 2,000 years, from Roman to relatively recent times. If you count the Neolithic monoliths just outside of town, the period increases to over 6,000 years. And many of the constructions are well-preserved for their age.
Top 3 must-see
Evora Historic Center
attractions

Roman Temple
Fourteen Corinthian columns of this first century ruin still stand boldly (see photo).

Evora Cathedral
Imposing both inside and out. Dates from the 12th century.

Chapel of Bones
This ossuary in St Francis church is decorated with skulls, bones, and (if that were not enough) hanging mummified corpses.
Other
leading attractions
in or near Evora
They include:

University (marvelous architecture)

Grace Church

Giraldo Square

Almendres Cromlech (monoliths)

Aqueduct

Narrow cobblestone alleys.
And some convents have been converted into interesting inns and small hotels.
More
Evora Historic Center
tips and insights

Architectural styles
You'll see a variety of design elements including Baroque, Gothic, Manueline, Moorish, Renaissance, and Romanesque.

Day trips
Evora is about 120 kilometers (75 miles) from Lisbon, making its historic center a popular day trip destination. But if you have the time, stay overnight - there's so much to see and experience.

Location in Portugal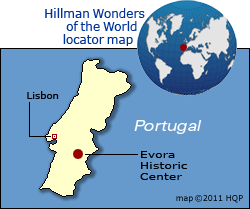 Know these Portugal tips and insights
Lisbon
Alfama
Belem Tower
Jeronimos Monastery
St George's Castle
Near of Lisbon
Alcobaca Monastery
Evora Historic Center
Obidos Castle & Town
Queluz National Palace
Sintra
North of Lisbon
Douro Valley
Oporto Historical Center
South of Lisbon
Algarve Coast
Azores
Madeira Islands
Photo by portogallo - CC BY-SA 3.0

World's Top 100 Wonders
World's Top 1000 Wonders
Site map
My credentials
About my website and criteria
Reader testimonials