St George's Castle
Travel tips you can trust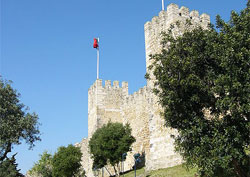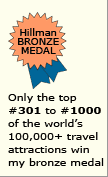 Why
St George's Castle
is special
While the ruin itself is appealing, it's the marvelous panoramic view of Lisbon that primarily makes a visit to St George's Castle a must do.
Top 3
St George's Castle
attractions

View overlooking Lisbon
Which is better, the view from the high ramparts or from the broad terrace below? The first gives you a sense of place, while the second offers a broader, less obscured perspective. Do both.

Castle
The ruin is interesting to explore, especially the ramparts.

Olissiponia
This multi-media presentation gives you a commendable overvie w of the site's long and exciting history.
More
St George's Castle
tips & insights

Camera Escura
The citadel has a Camera Escura production. As in some other cities, a special lens projects a live city view on a 360 degree screen. Some travelers - including me - don't find Camera Escuras worth their entrance fees.

History in brief

The Visigoths erected a fortification on the strategic hilltop in the 6th century.

It wasn't until the 8th to 12th century Moorish rule that a formidable citadel was built.

The Portuguese began enhancing it when they defeated the Moors in the 12th century.

Due to neglect, the site started deteriorating in the 16th century and was dealt a near fatal blow by the 1775 Great Lisbon Earthquake.

It underwent a major restoration in the mid 20th century, giving us the structure we see today.

Alfama
St George's Castle is in Lisbon's Alfama quarter, which is a Hillman Wonder itself. Click Alfama to read my web page on it.

Location in Portugal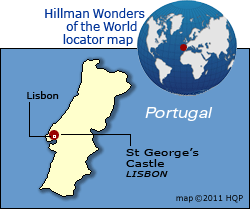 Know these Portugal tips and insights
Lisbon
Alfama
Belem Tower
Jeronimos Monastery
St George's Castle
Near of Lisbon
Alcobaca Monastery
Evora Historic Center
Obidos Castle & Town
Queluz National Palace
Sintra
North of Lisbon
Douro Valley
Oporto Historical Center
South of Lisbon
Algarve Coast
Azores
Madeira Islands
Photo by Osvaldo Gago - CC BY-SA 2.0

World's Top 100 Wonders
World's Top 1000 Wonders
Site map
My credentials
About my website and criteria
Reader testimonials