Belem Tower
Travel tips you can trust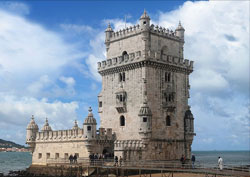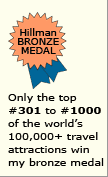 Why the
Belem Tower
is special
This ornate limestone fortress in Lisbon commemorates navigator Vasco de Gama's voyage of discovery to India. His ships began their journey in this area.
Belem Tower
tips and insights

History in brief
Belem Tower was built in 1521 at the mouth of the Tagus River to help guard Lisbon from naval attacks. During the Spanish rule (1580-1640), it was used as a prison. In the 1840s and 1990s, it was renovated into the structure we see today.

About the site
The Belem Tower complex sits on a small island that abuts the riverbank at low tide. It comprises two connected structures: A 30-meter (100-foot high square tower (photo center) and a thick-walled bulwark containing canon emplacements in its innards (photo left).
Some visitors only drive by this wonder. They see the three sides visible from the riverbank but miss the ornately carved facade facing the river.

Exterior vs interior
The exterior is what draws tourists. The interior is rather plain and uninteresting except for the rib-vaulted ceiling in the canon emplacement room.

How to pronounce
Belem = buh-lehm

When to go
Belem Tower is small and cannot comfortably accommodate many visitors at the same time. This is especially true if you want to enjoy the 360 degree view from the tower's roof. The steep, narrow, spiral steps leading to it will be congested with crushing two-way traffic during peak-visitor periods.

Worthy nearby attractions

Jeronimos Monastery (a Hillman Wonder medal winner)

Maritime Museum

Monument of the Discoveries

National Archaeological Museum.

Location in Portugal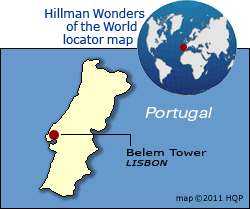 Know these Portugal tips and insights
Lisbon
Alfama
Belem Tower
Jeronimos Monastery
St George's Castle
Near of Lisbon
Alcobaca Monastery
Evora Historic Center
Obidos Castle & Town
Queluz National Palace
Sintra
North of Lisbon
Douro Valley
Oporto Historical Center
South of Lisbon
Algarve Coast
Azores
Madeira Islands
Photo by Alvesgaspar - CC BY-SA 3.0

World's Top 100 Wonders
World's Top 1000 Wonders
Site map
My credentials
About my website and criteria
Reader testimonials