Jeronimos Monastery
Travel tips you can trust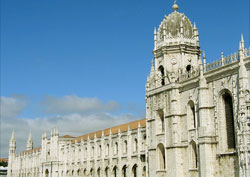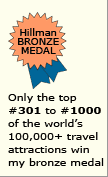 Why the
Jeronimos Monastery
is special
This sizable religious complex is a splendid showcase for Portugal's celebrated architectural Manueline style.
It employs a combination of late Gothic, early Renaissance, and Moorish styles. And the sculpting is prolific and (some say) excessively detailed.
Top 3
Jeronimos Monastery
attractions

Cloisters
They are artistically sculpted, twin tiered, and sizable (each side measures 55 meters or 180 feet in length).

South Portal
This soaring main entrance to the church is extravagantly decorated with stone sculptures.

Church interior
It's huge and sports a magnificent rib-vaulted ceiling.
Other
Jeronimos Monastery
attractions
They include

Vasco da Gama's tomb

Royal tombs

The dramatic impact of the site's long and eye-catching front facade.
More
Jeronimos Monastery
insights

History in brief
Jeronimos Monastery was built to honor Vasco da Gama's Age of Discovery voyages, which brought significant honor and wealth to Portugal. Construction began in 1502 and took most of the century to complete.
When monastic orders were outlawed in Portugal in the 1830s, the St Jerome monks (who had run the place for four centuries) packed their bags.
Today, Jeronimos Monastery is no longer consecrated. It's a public museum.

Worthy nearby attractions

Belem Tower (a Hillman Wonder medal winner)

National Archaeological Museum

Maritime Museum

Monument of the Discoveries

Location in Portugal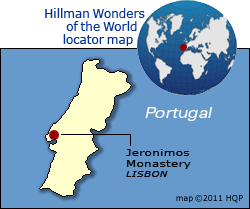 Know these Portugal tips and insights
Lisbon
Alfama
Belem Tower
Jeronimos Monastery
St George's Castle
Near of Lisbon
Alcobaca Monastery
Evora Historic Center
Obidos Castle & Town
Queluz National Palace
Sintra
North of Lisbon
Douro Valley
Oporto Historical Center
South of Lisbon
Algarve Coast
Azores
Madeira Islands
Photo by Osvaldo Gago - CC BY-SA 20

World's Top 100 Wonders
World's Top 1000 Wonders
Site map
My credentials
About my website and criteria
Reader testimonials