Madeira Islands
Travel tips you can trust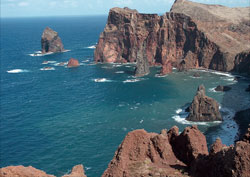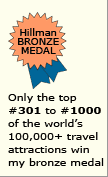 Why the
Madeira Islands
are special
Their main island has been called a Garden of Eden because of its natural beauty and year-round spring-like climate.
Madeira Islands
tips and insights

Name
Both the island group and its main island bear the name "Madeira" (which translates as "wood", referring to the thick forests).

About Madeira Island

It is by far the most populous, touristed, and beautiful of the four islands.

It has many luxury, midmarket and mass-tourism resorts. Yet, despite its lengthy coastline, it has no beaches. Reason: The seacoast has a steep drop off. (For a beach, you have to go to Santo Porto, the second largest island. Unfortunately, it lacks sufficient beauty.)

Funchal, the capital city, is the epicenter for restaurants, bars, and clubs.

History in brief
The Portuguese say they discovered Madeira in 1419. Some historians argue that the event happened earlier and by non-Portuguese.

Volcano height
Pico Ruivo is the highest peak, measuring 1860 meters (6110 feet) above sea level. But since the base of the Madeira mass sits on the ocean floor 9 kilometers (5.5 miles) below, the Pico Ruivo peak would be near the height of Mount Everest if the Atlantic Ocean were drained.

When to come
Non-winter months are best. Winter is the rainy season - and temperatures occasionally become too nippy for ideal sunbathing.

Location
Madeira is in the North Atlantic Ocean roughly 550 kilometers (310 miles) directly west of Morocco. From Lisbon, it's a 1.5-hour flight.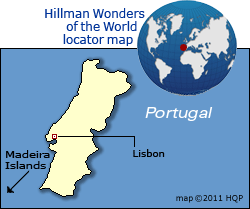 Know these Portugal tips and insights
Lisbon
Alfama
Belem Tower
Jeronimos Monastery
St George's Castle
Near of Lisbon
Alcobaca Monastery
Evora Historic Center
Obidos Castle & Town
Queluz National Palace
Sintra
North of Lisbon
Douro Valley
Oporto Historical Center
South of Lisbon
Algarve Coast
Azores
Madeira Islands
Photo by Selfmade

World's Top 100 Wonders
World's Top 1000 Wonders
Site map
My credentials
About my website and criteria
Reader testimonials