Azores
Travel tips you can trust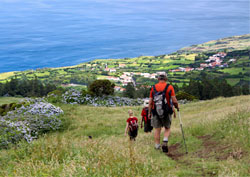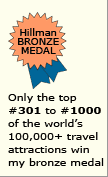 Why
the Azores
is special
Imagine a remote island group sitting in the middle of the North Atlantic with a quarter million people. And imagine it straddling the deeply submerged mid-Atlantic ridge where the Euroasian and North American plates are moving away from each other. That's the Azore Islands.
Azores
tips and insights

Top must-see islands

San Miguel
It's the largest and most populated. Sightseeing highlight: Visiting the village Sete Cidades on the crater floor of a huge volcano.

Pico
Home to the stunning near-perfect Pico volcano cone that soars 2350 meters (7710 feet). You can climb it.
Other interesting islands include Faial (for a great view of the Pico peak) and Flores (see its Funda Cratar Lake). And from various islands, you can board a small boat for whale and dolphin watching. You can also nature hike through verdant hills.

Food
A San Miguel island specialty is stew cooked in a cauldron set in hot thermal waters.

By air
The Azores are two hours by plane from Lisbon, five hours from New York. The international airport is on San Miguel.

When to come
Mid June to mid October has the best weather. Winter is the rainy season.

Location in Portugal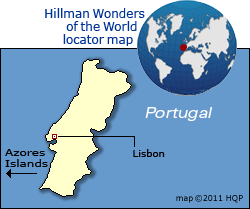 Know these Portugal tips and insights
Lisbon
Alfama
Belem Tower
Jeronimos Monastery
St George's Castle
Near of Lisbon
Alcobaca Monastery
Evora Historic Center
Obidos Castle & Town
Queluz National Palace
Sintra
North of Lisbon
Douro Valley
Oporto Historical Center
South of Lisbon
Algarve Coast
Azores
Madeira Islands

World's Top 100 Wonders
World's Top 1000 Wonders
Site map
My credentials
About my website and criteria
Reader testimonials