Douro Valley
Travel tips you can trust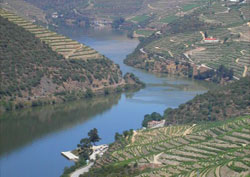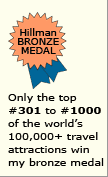 Why the
Douro Valley
is special
The Douro River meanders down a picturesque valley lined with steep terraced vineyards, medieval castle ruins, and small wine villages and towns. Most of the grapes go into producing the world famous port wine.
Douro Valley
tips and insights

About the Douro River
It originates deep into Spain and during one whitewater stretch, it forms part of the Portuguese-Spanish border. It then becomes relatively smooth (thanks to dams) and proceeds westward about 200 kilometers (130 miles) through northern Portugal to the Atlantic at Oporto, the county's second largest city.

Popular upriver towns

Peso da Regula
It is the most famous and important town, but has lost much of its former tourism appeal by growing too big and commercialized.

Pinhao
It's much smaller and more personalized than Pesco da Regula and has a lovely riverside setting.

Getting around
Your best two options are trains and river cruise boats. Trains have an advantage because you can take narrow-gauge branch lines up the scenic valleys of the tributaries. But, of course, cruising provides a more relaxful experience.
Road travel offers scenic vistas and more freedom of choice, but there's an issue: Many roads off the main highway are challenging.

Location in Portugal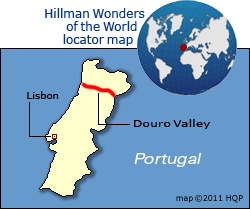 Know these Portugal tips and insights
Lisbon
Alfama
Belem Tower
Jeronimos Monastery
St George's Castle
Near of Lisbon
Alcobaca Monastery
Evora Historic Center
Obidos Castle & Town
Queluz National Palace
Sintra
North of Lisbon
Douro Valley
Oporto Historical Center
South of Lisbon
Algarve Coast
Azores
Madeira Islands
Photo by npolvo

World's Top 100 Wonders
World's Top 1000 Wonders
Site map
My credentials
About my website and criteria
Reader testimonials