Sintra
Travel tips you can trust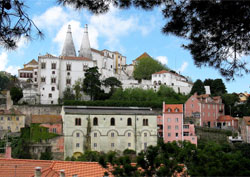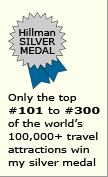 Why Sintra
is special
It was the summer residence of Moorish leaders and, later, of Portuguese royalty. Today, it's forested hilly terrain is home to an architecturally interesting collection of monumental buildings and gardens.
Top 3
Sintra attractions

Pena Palace
It's an architectural fantasy of eclectic elements and brings to mind a Disney fairytale style setting. But what makes the mid-19th century Pena Palace particularly noteworthy is its vast and spendid garden-esque park.

National Palace
Portuguese kings and queens resided here from the 1400s until 1910. The National Palace is now a museum and is landmarked by its two towering conical chimneys.

Moorish Castle
It dates back to around 800 and now is a ruin. The Moorish Castle stands on top of the town's highest hill and offers a spectacular panoramic view. But you must first hike up a long steep walkway to reach the castle.
Other leading attractions
They include:

Quinta da Regaleira (its garden is the star)

Monserrate Palace (celebrated for its garden)

Seteais Palace (now a hotel).
More Sintra
tips and insights

How to pronounce
Sintra = seen-trah

Day trip from Lisbon
Sintra is only about 40 minutes away by train and by road (if highway traffic is light). Best bet: Stay overnight because there's much more to see than a day trip allows. And you'll experience it when tour group crowds are absent, from late afternoon to mid morning.

Cabo da Roca side trip
The "Cape of the Rock" is approximately a half hour by car from Sintra. Its blustery viewpoint sits on a high steep-sided sea cliff overlooking the pounding Atlantic Ocean. The location is the most westerly point of continental Europe.

Location in Portugal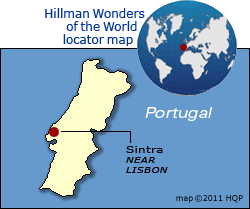 Know these Portugal tips and insights
Lisbon
Alfama
Belem Tower
Jeronimos Monastery
St George's Castle
Near of Lisbon
Alcobaca Monastery
Evora Historic Center
Obidos Castle & Town
Queluz National Palace
Sintra
North of Lisbon
Douro Valley
Oporto Historical Center
South of Lisbon
Algarve Coast
Azores
Madeira Islands

World's Top 100 Wonders
World's Top 1000 Wonders
Site map
My credentials
About my website and criteria
Reader testimonials