Hofburg Palace

(aka Imperial Palace

)

Travel tips you can trust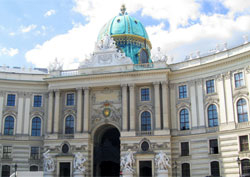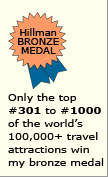 Why the
Hofburg Palace
is special
A fair portion of Europe was ruled for over six centuries (1279-1918) from Vienna's Hofburg Palace, the winter residence of the royal Habsburg family.
Hofburg Palace
tips and insights

How the
Hofburg Palace evolved
It began as a modest-sized 13th century fortified castle. Succeeding emperors added and enlarged structures. Today the Hofburg Palace is a huge, sprawling complex of buildings.

What to see
at the Hofburg Palace
You can visit only a small fraction of the 2,600 rooms. The others are mainly used as offices for the Austrian President and 5,000 governmental workers.
The ones you can visit are quite interesting and include:

Chapel
Where the renowned Vienna Boys Choir sings Sunday Mass.

Library
One of the most photogenic libraries on earth.

Museums
Many focuses: Musical instruments, weaponry, ethnology, and a host of other special-interest fields.

Royal apartments
The luxurious residence and state rooms of Emperor Franz Joseph and Empress Elizabeth.
Spanish Riding School
The celebrated white Lipizzaner horses perform here.

Silver collection
Dining table items (more interesting than it sounds).

Treasury
Showcases precious jewels, historical crowns, and other items accumulated through the centuries by the Habsburg rulers.
The most popular tour takes you to the Royal Apartments, Silver Collection, and Treasury.

Hofburg's summer residence
Click Schonbrunn Palace to read my web page on it.

Location in Austria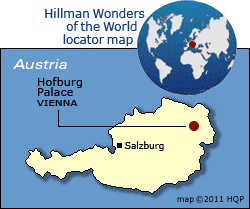 Know these Austria tips and insights
Vienna
Belvedere Palace
Hofburg Palace
Kunsthistorisches Museum
Schonbrunn Palace
Spanish Riding School
St Stephen's Cathedral
Vienna State Opera House
Beyond Vienna
Danube Cruise multi-national
Eisriesenwelt Caves
Grossglockner Alpine Road
Melk Abbey and its Church
Salzburg Old Town/Castle
Rankings
Top 5 Austria Wonders
Photo by Carlton Browne - CC BY 2.0

World's Top 100 Wonders
World's Top 1000 Wonders
Site map
My credentials
About my website and criteria
Reader testimonials