Schonbrunn Palace
Travel tips you can trust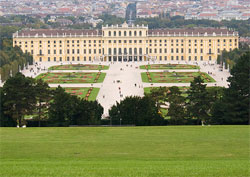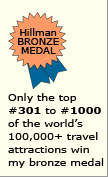 Why the
Schonbrunn Palace
is special
This 1,441-room, former royal summer palace has magnificently decorated interiors, expansive gardens, and more.
Top 2
Schonbrunn Palace
highlights

Grand (40-room) tour
Among the chambers visited are the lavish, mainly rococo-style rooms of the Empress Maria Theresa (ruled 1740-1780).
You can also take the shorter and less expensive 22-room tour, but you would be missing some key spaces.

Gardens
They are extensive and incorporate both classical French and English layouts and landscaping styles. The stand-alone Botanical Garden and Palm House are captivating.
Other highlights
They include:

Gloriette (graceful pavilion on a hill overlooking the palace, gardens, and Vienna)

Orangerie (greenhouse)

Tiergarten (zoo), Roman Ruin (artificial)

Wagenburg (carriage museum)

Schosstheatre (performance hall)
More
Schonbrunn Palace
tips and insights

Versailles wannabe
Emperor Leopold I (ruled 1658-1740) conceived Schonbrunn Palace a nd desired to have it outshine France's Versailles. His treasury lacked sufficient funds to fulfill his dream.

Mozart and
Marie Antoinette
Maria Theresa heard the six-year-old Mozart play the piano in the Mirror Room. And her daughter, the guillotine-fated Marie Antoinette, was the Queen of France.

Royal end
In 1918, two years after Emperor Franz Joseph's 68-year rule, the royal reign came to an abrupt halt. Schonbrunn Palace became state property.

Name
Schonbrunn translates "beautiful spring" in English.

Location in Austria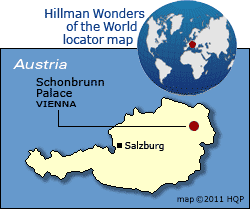 Know these Austria tips and insights
Vienna
Belvedere Palace
Hofburg Palace
Kunsthistorisches Museum
Schonbrunn Palace
Spanish Riding School
St Stephen's Cathedral
Vienna State Opera House
Beyond Vienna
Danube Cruise multi-national
Eisriesenwelt Caves
Grossglockner Alpine Road
Melk Abbey and its Church
Salzburg Old Town/Castle
Rankings
Top 5 Austria Wonders
Photo by Iordachescu Nicu - CC BY 2.0

World's Top 100 Wonders
World's Top 1000 Wonders
Site map
My credentials
About my website and criteria
Reader testimonials