Vienna State
Opera House
Travel tips you can trust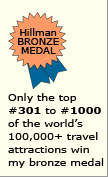 Why the
Vienna State Opera House
is special
Vienna is one of the world's most cultured cities and, fittingly, this stately performance hall attracts sophisticated audiences and is home to the Vienna State Opera company, one of the finest on our planet.
Vienna State Opera House
tips and insights

History in brief
It opened in 1864 and suffered severe bomb damage near the end of the Second World War in 1945. The building's front sections (including the facade and majestic interior staircase) survived enough to be renovated. However, the auditorium and stage had to be rebuilt from scratch.

Acoustics
The auditorium and stage acoustics significantly improved with the post-war rebuilding. But this betterment was at the expense of having a less resplendent interior. The building facade and the front interior spaces did remain true to their earlier designs.

Standing-room ticket caveat
If you buy the less expensive standing-room ticket and are not among the first in line, you could end up with a well-obstructed view of the performance.

Other events
The Vienna State Ballet company resides here and the prestigious annual Vienna Opera Ball takes place on the sizeable stage.

Tours
Visitors explore the backstage as well as view the plush auditorium from a performer's perspective.

Location in Austria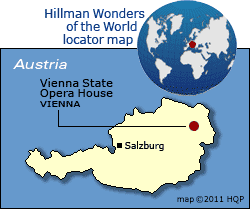 Know these Austria tips and insights
Vienna
Belvedere Palace
Hofburg Palace
Kunsthistorisches Museum
Schonbrunn Palace
Spanish Riding School
St Stephen's Cathedral
Vienna State Opera House
Beyond Vienna
Danube Cruise multi-national
Eisriesenwelt Caves
Grossglockner Alpine Road
Melk Abbey and its Church
Salzburg Old Town/Castle
Rankings
Top 5 Austria Wonders

World's Top 100 Wonders
World's Top 1000 Wonders
Site map
My credentials
About my website and criteria
Reader testimonials