St Stephen's
Cathedral
Travel tips you can trust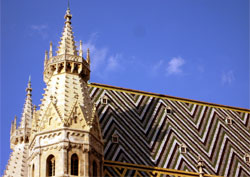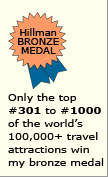 Why the
St Stephen's Cathedral
in Vienna is special
Its interior, roof, and soaring tower are unique and stunning in design and architecture.
Top 3
St Stephen's Cathedral
attractions

Interior overall
Don't miss the Stone Pulpit (exquisitely carved), the Altars (especially the High and the Wiener Neustadt altars), and the many other precious artworks.

South Tower
It is one of Vienna's most beloved icons. It rises as high as a modern 40-story building, an amazing engineering feat for a virtual-stand-alone 15th-century steeple.

Roof
St Stephen's Cathedral's steep-sloped roof is blanketed with colorful multi-hued glazed tiles set in striking geometric patterns.
Other major
St Stephen's Cathedral
attractions

North Tower
Though half as high as the South Tower, it, too, offers a stellar panoramic view of Vienna and beyond. Unlike the latter, it has an elevator.

Catacombs
View royal tombs and piles of commoner bones.

Heathen Towers
They are 900 years old.
St Stephen's Cathedral
history in brief
The site's ecclesiastical history dates back to the 12th century when a parish church was built. Through the centuries, the site suffered damage by warfare, fire, and age - and underwent a steady diet of renovations, reconstructions, and repairs. All things considered, St Stephen's Cathedral today is in remarkably good condition.

Location in Austria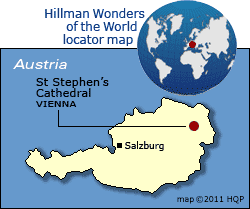 Know these Austria tips and insights
Vienna
Belvedere Palace
Hofburg Palace
Kunsthistorisches Museum
Schonbrunn Palace
Spanish Riding School
St Stephen's Cathedral
Vienna State Opera House
Beyond Vienna
Danube Cruise multi-national
Eisriesenwelt Caves
Grossglockner Alpine Road
Melk Abbey and its Church
Salzburg Old Town/Castle
Rankings
Top 5 Austria Wonders

World's Top 100 Wonders
World's Top 1000 Wonders
Site map
My credentials
About my website and criteria
Reader testimonials