Kunsthistorisches Museum
Travel tips you can trust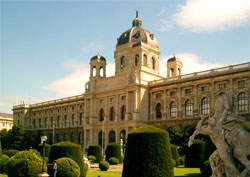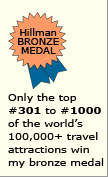 Why the
Kunsthistorisches Museum
is special
This 19th-century building in Vienna houses a treasure trove of the great artwork collected by the ruling royal family.
Top 2
Kunsthistorisches Museum
collections

Painting Gallery
The don't-miss masterpieces include:

Tower of Babel by Brueghel the Elder


Madonna in the Meadow by Raphael


Infanta Margarita Teresa by Velazquez
You'll also enjoy masterpieces by other world famous painters such as Carravaggio, Druer, Rembrandt, Rueben, Titian, and Vermeer.

Egyptian and Near Eastern
It's all here - sculptures, mummies, sarcophagi, and other antiquities.
Other worthy collections
They include

Greek and Roman Antiquities

Coin Cabinet

Sculpture and Decorative Arts.
In 2003, the precious golden Cellini Salt Cellar was stolen from the museum, creating media buzz around the globe. Several years later it was located and returned.
More
Kunsthistorisches Museum
tips & insights

Shortcoming
Unlike in the Louvre, British, Louvre, Met, and in some other great museums, many objects in the Kunsthistorisches Museum are not displayed as well as they should be.

When to come
Peak summer and holiday periods bring tour-group crowds. You'll have less competition for space if you come in the early morning or late afternoon. Or visit Thursday evenings

Location in Austria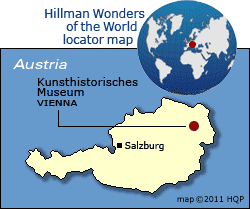 Know these Austria tips and insights
Vienna
Belvedere Palace
Hofburg Palace
Kunsthistorisches Museum
Schonbrunn Palace
Spanish Riding School
St Stephen's Cathedral
Vienna State Opera House
Beyond Vienna
Danube Cruise multi-national
Eisriesenwelt Caves
Grossglockner Alpine Road
Melk Abbey and its Church
Salzburg Old Town/Castle
Rankings
Top 5 Austria Wonders

World's Top 100 Wonders
World's Top 1000 Wonders
Site map
My credentials
About my website and criteria
Reader testimonials