Alsace-Lorraine
cuisine
Food tips you can trust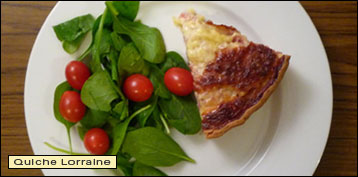 Alsace-Lorraine cuisine

Famous Lorraine dishes
Known around the world:

Quiche Lorraine
A flaky open-faced pastry tart filled with a bacon-and-cheese flavored custard

Famous Alsatian preparation
Alsace's most acclaimed specialty:

Foie Gras
Delicate and light textured goose liver.

Well-known shared entrees
Both Alsace and Lorraine serve:

Choucroute Garnie
A sauerkraut, pork, and sausage casserole.

Coq au Riesling
Chicken in white wine sauce

Vegetables
Be it white or red, cabbage is the most popular regional vegetable and is more often than not pickled into choucroute (sauerkraut), sometimes flavored with juniper berries. Other beloved vegetables include the potato and, in season, asparagus.

Fish
Both regions enjoy a variety of tasty freshwater fish such as trout, carp, and pike caught in the cool streams and lakes nearby.

Confectionaries
Both provinces boast of a rich supply of shops selling excellent cakes, macaroons, pastries, and chocolates, all designed to satisfy the traditional sweet tooth of the local citizenry.
Learn More

for next Alsace-Lorraine food page
Also Read these French cuisine pages

Epicurean
French Classical Cuisine
Regional cuisines
Alsace Lorraine
Bordeaux
Brittany
Burgundy
Classical
Normandy
Provence
Other regions
rankings
Top 10 famous French dishes
Best 10 world cusines
Top 10 Wonders of France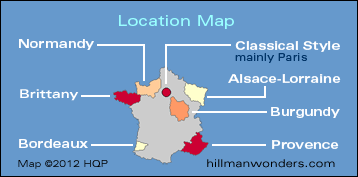 Photo by Carol Baby - CC BY 2.0

World's Top 100 Wonders
World's Top 1000 Wonders
Site map
My credentials
About my website and criteria
Reader testimonials