Brittany cuisine
Food tips you can trust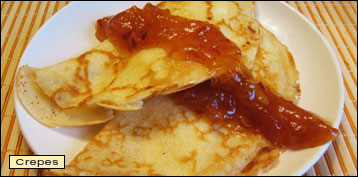 Why the cuisine of
Brittany is special
Although Brittany cooking is relatively simple fare, its food ingredients are superb.
Famous specialties
of Brittany

Crepes
Brittany is the crepe capital of the world. The oversized panfried pancakelike crepes can be made of wheat or buckwheat flour and filled with sweet or savory ingredients.

Coquilles St. Jacques
Creamed scallops served in their shell.

Homard a l'Armoricaine
Lobster cooked in and served with a garlicky tomato sauce. (The name is sometimes spelled Homard a l'Americaine.)

Gigot d'Agneau
Brittany's acclaimed leg of lamb is cooked with various recipes and cooking methods. The presale Iamb (reared on seaside salt marshes) is highly esteemed.

Cotriade Bretonne
A soup-stew made with a mix of fish.
Learn More

for next Brittany Cuisine page
Also learn about these
French culinary regions
and their famous dishes
Epicurean
French Classical Cuisine
Regional cuisines
Alsace Lorraine
Bordeaux
Brittany
Burgundy
Classical
Normandy
Provence
Other regions
rankings
Top 10 famous French dishes
Best 10 world cusines
Top 10 Wonders of France
Photo by Kimberly Vardeman - CC BY 2.0

Rankings
Peasant recipes
World wonders
Also read
Site map
About me and my credentials
About my website
Reader testimonials
Email me your opinion