Normandy cuisine
Food tips you can trust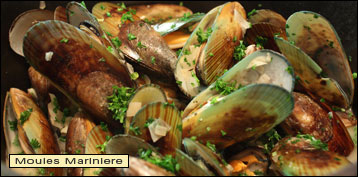 Why the cuisine of
Normandy is special
It is renowned for its rich butter and cream sauces - and for its apples, cider, and Calvados, an apple brandy much used in local cooking - and for its excellent coolwater fish and shellfish.
Normandy's
7 most famous
specialties

Canard Rouennaise
Plump Rouen duck cooked in blood.

Gigot d'Agneau Pre Sel
Roasted leg of young lamb raised on salty marsh lands.

Madame Poulard's Omelette
Her secret for making it fluffy? Beat the egg whites and yolks separately.

Moules Mariniere
Mussels simmered in a shallot flavored white wine broth.

Sole Normande
Poached sole served with a thickened butter-egg-and-cream sauce.

Sole Dieppoise
Poached sole served with a white wine sauce and garnished with mussels and shrimp.

Tripes a la Mode de Caen
A flavorful stew made by braising tripe up to twelve hours with ingredients such as calves' feet, cider, and various vegetables.
Learn More

for next Normandy Cuisine page
Also learn about these
French culinary regions
and their famous dishes
Epicurean
French Classical Cuisine
Regional cuisines
Alsace Lorraine
Bordeaux
Brittany
Burgundy
Classical
Normandy
Provence
Other regions
rankings
Top 10 famous French dishes
Best 10 world cusines
Top 10 Wonders of France
Photo by Naotake Murayama - CC BY 2.0

Rankings
Peasant recipes
World wonders
Also read
Site map
About me and my credentials
About my website
Reader testimonials
Email me your opinion