Bordeaux cuisine
Food tips you can trust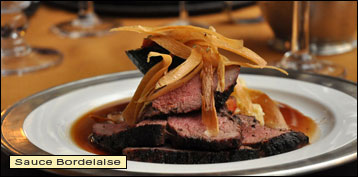 Why the
cuisine of Bordeaux
is special
Bordeaux's cuisine has become well known to the world mainly due to the illustrious Bordeaux wines. Bordeaux's food is normally prepared in a straightforward manner, without any attempt to reach gastronomic heights. However, Bordeaux does have some interesting specialties.
Top 4
leading specialties
of Bordeaux

Sauce Bordelaise
Of all the local specialties, the most renowned is Sauce Bordelaise, made with red wine, marrow-based brown stock, shallots, and seasonings. It marries well with entrecote, a grilled beefsteak cut that is much appreciated by the local cooks who love roasting or grilling meats, sometimes over the fragrant trimmings of the pruned vines.

Lamb
It is also a treat in Bordeaux, especially when the animal was reared along the seashore and riverbanks. Like a number of other dishes in Bordeaux, it is often prepared with a light touch of garlic.

Seafood
The ultimate in seafood preparations is Lamproie a la Bordelaise, eel cooked in red wine. In addition to eels, the sizable Gironde estuary yields caviar of genuine sturgeon pedigree.

Oysters
They, too, are standouts in the Bordeaux region, but when ordering, you should request the superior-tasting indigenous gravette as opposed to the more common, transplanted Portuguese variety.
Learn More

for next Bordeaux Cuisine page
Also learn about these
French culinary regions
and their famous dishes
Epicurean
French Classical Cuisine
Regional cuisines
Alsace Lorraine
Bordeaux
Brittany
Burgundy
Classical
Normandy
Provence
Other regions
rankings
Top 10 famous French dishes
Best 10 world cusines
Top 10 Wonders of France
Photo by Dinner Series - CC BY 2.0

Rankings
Peasant recipes
World wonders
Also read
Site map
About me and my credentials
About my website
Reader testimonials
Email me your opinion