Burgundy cuisine
Food tips you can trust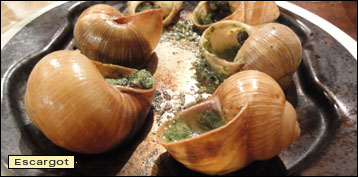 Why the culinary
area of Burgundy
is special
Between the cities of Dijon in the north and Lyons in the south lies France's finest culinary area. The cooking of Burgundy is relatively uncomplicated. It relies principally on the high quality of the local cooking ingredients for which the countryside is famous.
Famous
Burgundy specialties

Boeuf Bourguignonne
Beef braised with onions, mushrooms and other vegetables in red wine.

Escargots a la Bourguignonne
Snails served in their shells with garlic-infused parsley butter.

Oeufs a la Bourguignonne
Eggs poached in red wine.

Pommes Lyonnaises
Potatoes cooked with onions.

Poulet a la Demi-Deuil
Literally, "chicken in half mourning," referring to the shroudlike appearance of the breast when black truffle slices are inserted underneath the skin.

Quenelles de Brochet
Light and delicious pike dumplings.
Famous
Burgundy meats

They include ...

Chicken
Reared in the Bresse subregion

Beef
From the white Charolais cattle

Wild Game
From nearby forests and streams
Learn More

for next Burgundy Cuisine page
Also learn about these
French culinary regions
and their famous dishes
Epicurean
French Classical Cuisine
Regional cuisines
Alsace Lorraine
Bordeaux
Brittany
Burgundy
Classical
Normandy
Provence
Other regions
rankings
Top 10 famous French dishes
Best 10 world cusines
Top 10 Wonders of France
Photo by Jen Wen Luoh - CC BY 2.0

Rankings
Peasant recipes
World wonders
Also read
Site map
About me and my credentials
About my website
Reader testimonials
Email me your opinion