Cesky Krumlov
Travel tips you can trust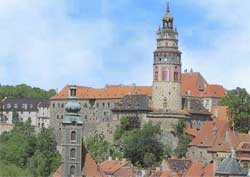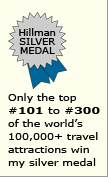 Why
Cesky Krumlov
is special
Cesky Krumlov is one of the most charming destinations seasoned travelers will encounter.
Pronunciation
Cesky Krumlov: chesh'-kee krum'-loff
Top 2
attractions of
Cesky Krumlov

Cesky Krumlov Castle
This sprawling 13th century castle (see photo) is on a hill looking almost directly down on the historic center. This palace citadel will likely exceed your expectations because there is far more inside than the outside suggests.
The complex consists of a connected series of castles and chateaus in a medley of Gothic, Baroque and especially Renaissance styles.
Guided tours take you through many ornately decorated rooms including the royal chapel and living quarters. You also visit a striking baroque theatre and masquerade ballroom.

Cesky Krumlov Old Town
It's small and intimate. You will love strolling down narrow cobblestone streets lined with picturesque venerable buildings. A peaceful river nearly completely encircles the site, creating a pleasingly snug setting.
Learn More

for next Cesky Krumlov page
Czech Wonder
location map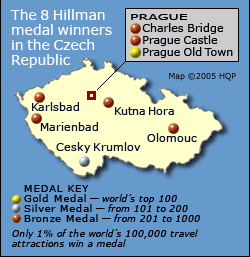 Know these
Czech tips and insights
Czeck Wonders
Cesky Krumlov
Charles Bridge
Karlsbad
Kutna Hora
Marienbad
Olomouc
Prague Castle
Prague Old Town
Other Czech pages
Top 10 Czech Wonder rankings
Basic Czech phrases
Czech cuisine
Czech honorable mentions
Famous festivals
Czech Republic fact sheet
Photo gallery


World's Top 100 Wonders
World's Top 1000 Wonders
Site map
My credentials
About my website and criteria
Reader testimonials