Famous
Czech festivals
Travel tips you can trust
Best festivals
in the country
The Czech Republic is widely known for its many quality festivals and celebrations. The ones below are among the best.
Chronological order:

Prague Winter Festival
January. Symphony orchestra and chamber ensemble events. Also opera and ballet performances.

Carodejnice (witch night)
April 30 evening. In many cities. Also known as the "Night of the Witches". Sort of like Halloween. Bonfires and more.

Prague Spring Festival
Mid May to early June. Leading classical artists from around the world perform in cultural halls, theatres and churches.

Straznice Folklore Festival
June. Come here to enjoy lively traditional folk music and dance performances.

Cesky Krumlov Celebration of the Rose
Mid June. Features period music and theatre performances plus medieval knight jousting and costumed jugglers and craftsmen.
Learn More

for next Czech festivals page
Czech Wonder
location map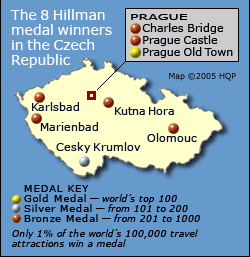 Know these
Czech tips and insights
Czeck Wonders
Cesky Krumlov
Charles Bridge
Karlsbad
Kutna Hora
Marienbad
Olomouc
Prague Castle
Prague Old Town
Other Czech pages
Top 10 Czech Wonder rankings
Basic Czech phrases
Czech cuisine
Czech honorable mentions
Famous festivals
Czech Republic fact sheet
Photo gallery


World's Top 100 Wonders
World's Top 1000 Wonders
Site map
My credentials
About my website and criteria
Reader testimonials