Karlbad
Travel tips you can trust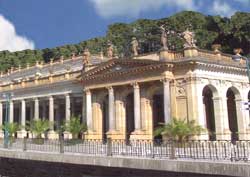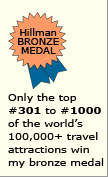 Why
Karlsbad
is special
Karlsbad (Karlovy Vary) is an internationally famous spa known for its medicinal hot spring waters and the long list of royal and ultra celebrity guests who once came a century or two ago. The spa town is also noted for its preserved and renovated 19th century buildings.
Karlsbad
tips and insights

Pronunciation
Karlovy Vary: khar'-luh-vee vahr'ee

Mineral water
The famous local mineral-spring Karlsbad waters are heated by deep underground volcanic thermal energy. They are used for curative baths and drinks.

Glory, decline, and revival
The spa town reached its zenith in the 1800s through the late 1920s. Then, through neglect, its treasured buildings began deteriorating. In recent decades, nearly all of its key buildings have been restored. Today, Karlsbad is once again picturesque. Its town center is postcard perfect.

Colonnades
Karlsbad has a number of colonnades. These are pillared buildings constructed over hot springs (see photo). You visit them to drink mineral water as it emerges fresh from underground springs.
Learn More

for next Karlsbad page
Czech Wonder
location map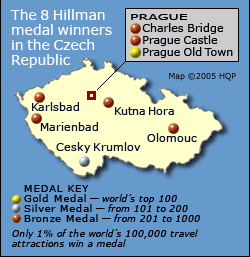 Know these
Czech tips and insights
Czeck Wonders
Cesky Krumlov
Charles Bridge
Karlsbad
Kutna Hora
Marienbad
Olomouc
Prague Castle
Prague Old Town
Other Czech pages
Top 10 Czech Wonder rankings
Basic Czech phrases
Czech cuisine
Czech honorable mentions
Famous festivals
Czech Republic fact sheet
Photo gallery


World's Top 100 Wonders
World's Top 1000 Wonders
Site map
My credentials
About my website and criteria
Reader testimonials