Olomuc
Travel tips you can trust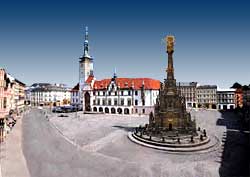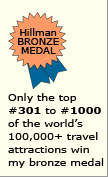 Why
Olomouc
is special
The old section of Olomouc boasts one of Europe's most attractive historical cityscapes. Another part of the city's appeal is that life goes on at a slow, relaxing pace (partially because it has not yet been fully discovered by tourists).
Olomouc
tips and insights

Pronunciation
Olomouc: OHL-lue-mootz

Upper Square
is Olomouc's top attraction
It's the historic and tourism heart of the city. The five major tourism draws:

Holy Trinity Column
This 250 year old carved stone column soars 35 meters or 115 feet (see picture's foreground). It is one of the most elaborate and best preserved Baroque columns existing in Europe today.

Fountains
The Upper (and Lower) square is adorned with 17th and 18th century fountains.

Old Town Hall
It commandingly sits in the middle of the square (see photo's background). It is a convincing half century old replica of the earlier 15th century Gothic city hall that stood in the same spot.

Astronomical Clock
The Old Town Hall's exterior wall is adorned with oversized 15th century style astronomical time pieces. At noon, knee-high statues representing various trades carousel above those embedded wall tickers, to the delight of tourists who assemble to view this midday event.

Baroque architecture
The square is surrounded by interesting baroque buildings painted with various pastel hues.
Learn More

for next Olomouc page
Czech Wonder
location map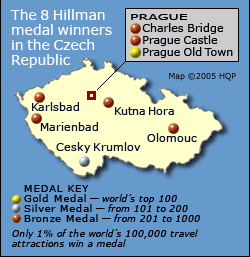 Know these
Czech tips and insights
Czeck Wonders
Cesky Krumlov
Charles Bridge
Karlsbad
Kutna Hora
Marienbad
Olomouc
Prague Castle
Prague Old Town
Other Czech pages
Top 10 Czech Wonder rankings
Basic Czech phrases
Czech cuisine
Czech honorable mentions
Famous festivals
Czech Republic fact sheet
Photo gallery


World's Top 100 Wonders
World's Top 1000 Wonders
Site map
My credentials
About my website and criteria
Reader testimonials