Kutna Hora
Travel tips you can trust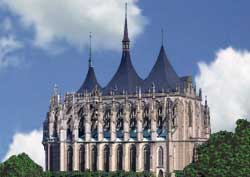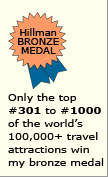 Why
Kutna Hora
is special
Kutna Hora is an atmospheric medieval town with a rich architectural and historical background.
Kutna Hora
tips and insights

Pronunciation
Kutna Hora: koot'nah horr'uh

Top 3 attractions
in Kutna Hora

St. Barbara Church
See photo. This cathedral sized house of worship was built for the town's many miners and is named for their patron, St. Barbara. It began to rise in Kutna Hora in late 1300s and took two centuries to complete. Outside, this Late Gothic structure has grand flying buttresses and soaring spires. Inside, visitors admire the magnificent vaulted ceilings and precious fresco paintings.

Italian Court
A former mint and royal seat. The Italian Court guided tour includes a coin-making demonstration plus a walk through the king's residence. The royal chapel is a petite artistic jewel.

Bone Church
The interior of the chapel is eerily decorated with the bones of people who passed away centuries ago in the plague and war. Their human remains were assembled into various shapes, including chandeliers, chalices and crosses. This destination also goes by the names Kostnice (Czech) and the Sedlec Ossoury - and is in the Kutna Hora outskirts.
Learn More

for next Kutna Hora page
Czech Wonder
location map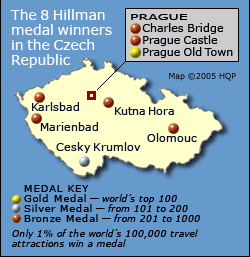 Know these
Czech tips and insights
Czeck Wonders
Cesky Krumlov
Charles Bridge
Karlsbad
Kutna Hora
Marienbad
Olomouc
Prague Castle
Prague Old Town
Other Czech pages
Top 10 Czech Wonder rankings
Basic Czech phrases
Czech cuisine
Czech honorable mentions
Famous festivals
Czech Republic fact sheet
Photo gallery


World's Top 100 Wonders
World's Top 1000 Wonders
Site map
My credentials
About my website and criteria
Reader testimonials