More
Kutna Hora
tips and insights

Kutna Hora
history in brief
The formerly sleepy Middle Age town prospered in the 13th to 15th centuries, thanks to the discovery of extensive silver ore deposits.
Kutna Hora soon became one of Europe's leading sources of silver. This provided the wealth to erect structures like St. Barbara, to become the seat of Bohemian kings, and to blossom into one of Europe's largest and most affluent cities.
Unfortunately, the silver deposits all but ran about two centuries later and the town shrank and drifted back into insignificance. Now, tourism is the new wealth of Kutna Hora, and this community is once again flourishing.

Minting
Kutna Hora in its hey day minted the silver Grochen. It was trusted and used throughout most of Europe. Another coin produced in the area was the Tollar - it gave its name to the dollar.

Getting there
Kutna Hora is an easy day trip from Prague. You can reach it by road in about an hour (if you avoid the morning and evening rush hours). You can also take a train.

Getting around
The Kutna Hora historic area is compact and is best explored on foot.

Festivals
Traditional costumed street festivals are held in June and September.
Learn More

for first Kutna Hora page
Czech Wonder
location map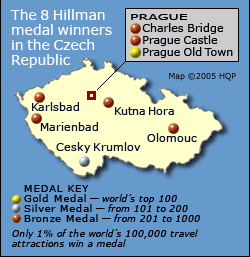 Know these
Czech tips and insights
Czeck Wonders
Cesky Krumlov
Charles Bridge
Karlsbad
Kutna Hora
Marienbad
Olomouc
Prague Castle
Prague Old Town
Other Czech pages
Top 10 Czech Wonder rankings
Basic Czech phrases
Czech cuisine
Czech honorable mentions
Famous festivals
Czech Republic fact sheet
Photo gallery


World's Top 100 Wonders
World's Top 1000 Wonders
Site map
My credentials
About my website and criteria
Reader testimonials