Basic Czech phrases
with pronunciations

Phrase sheet
Your travel experience in the Czech Republic will be richer by learning some basic phrases:
---

Hello / goodbye (casual)
Ahoj
AH-hoy

Hello (more formal)
Dobrý den
DO-bree DEHN

Goodbye (more formal)
Na shledanou
NAH SLED-dah-noh
---

You're welcome
Prosím
PRO-seem

I'm sorry
Promiňte
PROM-min-teh

Excuse me
S dovolením
Zd'-ovo-le-nee
---
---

My name is ...
Jmenuji se ...
Y'me-noo-yi se

What is your name?
Jak se jmenujete?
YAK se y'me-noo-ye-te
---

1, 2, 3
jeden, dva, trui
YEH-den, D'vah, TR'zhee

How much is this?
Kolik to stoji?
KOH-leek toh STOH-yee

The bill, please
za platim, prosím
zah PLAH-tim PRO-seem
---

What is this?
Co je to?
TS0 yeh toh

Where is ... ?
Kde je ... ?
gday yeh

I don't understand
Nerosumín
NEH'roh-zoo-meem
---
Czech
language tips

In almost all instances, the first syllable of Czech words receives the stress.

Print this phrase page and take it with you on your trip.
---
Czech Wonder
location map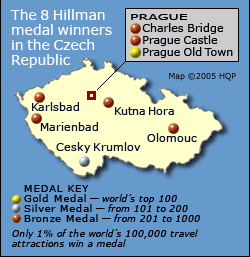 Know these
Czech tips and insights
Czeck Wonders
Cesky Krumlov
Charles Bridge
Karlsbad
Kutna Hora
Marienbad
Olomouc
Prague Castle
Prague Old Town
Other Czech pages
Top 10 Czech Wonder rankings
Basic Czech phrases
Czech cuisine
Czech honorable mentions
Famous festivals
Czech Republic fact sheet
Photo gallery


World's Top 100 Wonders
World's Top 1000 Wonders
Site map
My credentials
About my website and criteria
Reader testimonials