Czech
tips and facts
page 1

Centrally located
The Czech Republic sits in the middle of Europe, making it geographically convenient for travelers.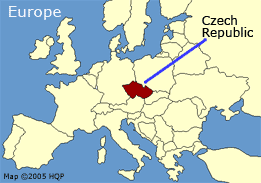 Prague is well-connected to the rest of the world by air. Example: Czech Airlines operates a daily nonstop flight between New York and Prague.

Rainfall and temperature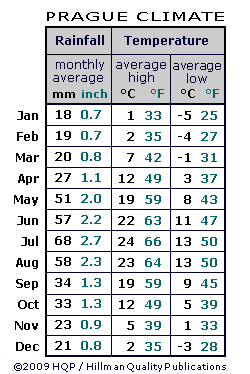 Population
10.3 million

Official language
Czech

Recent history in brief
Czechoslovakia was occupied by Germany in World War II and was controlled by the Russians in the post-war communist era. In 1989, the people demonstratively convinced Russia to relinquish its control without a battle (today that event is called the "Velvet Revolution"). In 1993, Czechoslovakia peacefully split into two countries, the Czech Republic and Slovak Republic.
Learn More

for next Facts and Tips page
Czech Wonder
location map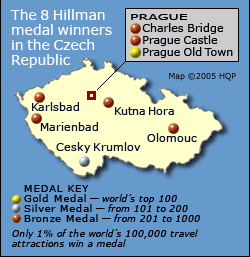 Know these
Czech tips and insights
Czeck Wonders
Cesky Krumlov
Charles Bridge
Karlsbad
Kutna Hora
Marienbad
Olomouc
Prague Castle
Prague Old Town
Other Czech pages
Top 10 Czech Wonder rankings
Basic Czech phrases
Czech cuisine
Czech honorable mentions
Famous festivals
Czech Republic fact sheet
Photo gallery


World's Top 100 Wonders
World's Top 1000 Wonders
Site map
My credentials
About my website and criteria
Reader testimonials