Prague Castle
Travel tips you can trust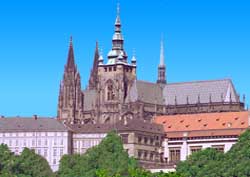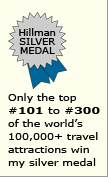 Why
Prague Castle
is special
It is one of the world's biggest castles (some say the largest). Since the 9th century, Prague Castle has been the seat of kings and presidents.
Top 5
Prague Castle
attractions

St. Vitus Cathedral
This colossal Gothic structure (see photo) dominates the Prague skyline and is strikingly ornamented inside and out. Many famous kings were crowned and buried in it.

Royal Palace
The highlight is Vladislav Hall. It is a large, majestically vaulted throne room. Festive events were staged in it including lavish banquets and even Prague style jousting tournaments.

Basilica of St George
This relatively small, thousand year old, Romanesque style basilica is well preserved.

Chapel of St. Wenceslas
Adorned with gems and artwork.

Golden Lane
A cute row of tiny, colorful buildings nestled against a castle wall - the lane view is quite photogenic. The former inhabitants included goldsmiths and palace guards. Today, tourist shops reign.
Learn More

for next Prague Castle page
Czech Wonder
location map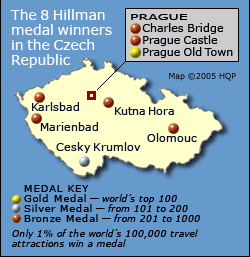 Know these
Czech tips and insights
Czeck Wonders
Cesky Krumlov
Charles Bridge
Karlsbad
Kutna Hora
Marienbad
Olomouc
Prague Castle
Prague Old Town
Other Czech pages
Top 10 Czech Wonder rankings
Basic Czech phrases
Czech cuisine
Czech honorable mentions
Famous festivals
Czech Republic fact sheet
Photo gallery


World's Top 100 Wonders
World's Top 1000 Wonders
Site map
My credentials
About my website and criteria
Reader testimonials