More
Prague Castle
tips and insights

Changing of the Guard
This ceremony takes place daily at noon in the First Courtyard.

Guided tour recommended
Unlike most large castles, this one does not require you to take a guided tour (though you must pay an admission fee). Still, it's wise to go on a guided or private tour lest you miss out on the many interesting historical and architectural nuances.

Defenestration
Prague Castle is infamous for being the scene of many 17th century acts of defenestration. This word defines getting rid of people you don't want by throwing them out a window (in this case, palace windows).

Construction
The castle evolved from a 9th century wooden fortress into a massive stone citadel while undergoing various stages ofdeterioration, rebuilding and enlargement. The most recent major renovations were championed by Empress Marie Theresa in the 18th century. Her touches gave Prague Castle the somewhat Baroque chateau look we see today. The structure is a sprawling complex of connected buildings. Unlike most castles, it is more linear than vertically oriented.
Learn More

for first Prague Castle page
Czech Wonder
location map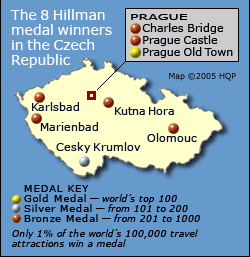 Know these
Czech tips and insights
Czeck Wonders
Cesky Krumlov
Charles Bridge
Karlsbad
Kutna Hora
Marienbad
Olomouc
Prague Castle
Prague Old Town
Other Czech pages
Top 10 Czech Wonder rankings
Basic Czech phrases
Czech cuisine
Czech honorable mentions
Famous festivals
Czech Republic fact sheet
Photo gallery


World's Top 100 Wonders
World's Top 1000 Wonders
Site map
My credentials
About my website and criteria
Reader testimonials