Lijiang insights
info you can trust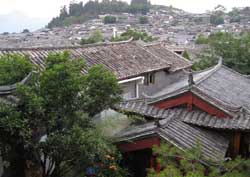 Ancient Town of Lijiang
This section of Lijiang is one of the most photogenic and best reconstructed old towns in China. Dayan Town, as it is also known, was rebuilt after a devastating earthquake destroyed it in 1996.

Tibetan dances
Lijiang old town is a treat in the evening when natives and visitors join together to form concentric circles in performing ancient Tibetan dances in the central square, Sifang.

Naxi Traditional Orchestra
Also don't miss its nightly performance played mainly by elderly musicians on rare instruments from the past. Do the same for folk and religious Dongba dances. Music runs in the blood of the Naxi people.

Jade Dragon Snow Mountain
This majestic peak provides a splendid backdrop for Lijiang.

Reconstruction goal
The reconstruction efforts were designed with tourists in mind. Today, Lijiang old town teems with handicraft shops, restaurants and other enterprises geared for visitors.
Streams and canals gently pass through Lijiang old town, as they have for over six centuries. These narrow waterways are shaded by graceful willow trees and crossed by small bridges.

Commendable job
The overall architectural effect of tightly packed wooden structures lining charming pedestrian-only cobblestone lanes and alleys is impressive and should serve as a role model for other cities contemplating recreating their own old towns.

Misguided romantic notion
Some romantics would prefer to have the town reconstructed exactly as it was in 1995. Apparently they never saw it then. It had become somewhat grungy and run down - and hardly like it was in its heyday.

Shuhe Old Town
On the north edge of Lijiang lies Shuhe Old Town. It's worth a visit. Compared with Lijiang Ancient Town, Shuhe Town is:

Smaller


Less polished


More personalized


More rural, less urban


Less touristy
Know these Lijiang and Shangri-La tips
Lijiang
Top 5- Nearby attraction - Ranked
Tips - When to go and not go
Tips - Avoiding altitude sickness
Tips - Mountain cable car ride
Tips - More
Tips - Some more
Lijiang insights
Photo gallery
Shangri-La
Top 5 attractions - Ranked
Tips - When to go
Tips - Getting to Shangri-La
Tips - Zhongdian name confusion
Shangri-La insights
Photo gallery
More topics
Pronouncing Yunnan names
Yunnan highlights map
Lost Horizon - The book
Lost Horizon - The film
Lost Horizon - Location debate
Also read
Wonders of China - Top 10 rankings
China Wonders map
Chinese cuisine

World's Top 100 Wonders
World's Top 1000 Wonders
Site map
My credentials
About my website and criteria
Reader testimonials