Top 5 Shangri-La
attractions
China travel tips
you can trust
What to see
and do in the
Shangri-La vicinity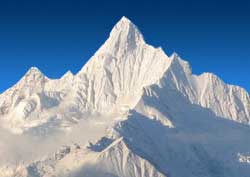 Scenic beauty
Shangri-La is blessed with majestic mountains. Meili Snow Mountain is the most striking. Kagebo is its main peak (see photo). It stands 6470 meters (21,351 feet) high, has an imposing pyramidal top, and has never been climbed by man, though many have tried.
Taking a drive through the Shangri-La countryside is a must. You see beautiful green pastureland lightly populated with yaks, sheep and goats. You pass traditional thick-walled Tibetan farmhouses with painted window frames. You view women in their bright-hued ethnic costumes. Higher up, the road winds through dramatic mountain scenery.

Songzanlin Monastery
This large, sprawling, well-preserved lamasery was built in the 1700s by the Fifth Dalai Lama. It sits commandingly on a slope 5 kilometers (3 miles) north of Zhongdian. Temples and other buildings have ornate carvings and gilded highlights. The mystical sounds of chanting monks (numbering about 200) and clinging bells enrich the visitor's experience. Songzanlin (the Chinese name) is also known locally by its Tibetan name, Ganden Sumtzeling.

Tiger Leaping Gorge
This natural wonder can be visited on a day trip from Zhongdian. The roundtrip is about 350 kilometers (220 miles). Click the link below for my web page on Tiger Leaping Gorge.

Zhongdian
The town of Zhongdian has both an old and a contemporary section. The latter lacks tourist appeal. However, the old town has interesting facets, including these:

Ambiance
The reconstructed Zhongdian Old Town is not as large as its Lijiang counterpart, but is less commercialized and not as crowded with tourists (at least not yet). Its building designs are less polished and sophisticated, which lends a more genuine old town feeling.

Tibetan dance
On most nights, town folk and countrysiders (many in their colorful traditional attire) gather in the main square starting at dusk. They form concentric circles to dance Tibetan style. You are welcome to join in. This community event is larger, more spirited than the one in Lijiang because its Sifang Square is bigger and because the town has a larger Tibetan ethnic population.

Giant prayer wheel
An eye-catching 24-meter (80-foot) tall golden prayer wheel sits on a hill. Though it was built recently for the sake of tourism, it has become an authentic item because local Buddhists now climb the hill to spin it to submit their prayers. You can twirl it, too, but do it only clockwise, as religious tradition dictates.

Baishui Terrace
Crystallized calcium carbonate deposits over countless millennia created a bizarre formation resembling frozen cascading water. Click the link below for page on this Hillman Wonder Bronze Medal world winner.
Learn my other
Lijiang/Shangri La
tips and insights
Lijiang
Top 5- Nearby attraction - Ranked
Tips - When to go and not go
Tips - Avoiding altitude sickness
Tips - Mountain cable car ride
Tips - More
Tips - Some more
Lijiang insights
Photo gallery
Shangri-La
Top 5 attractions - Ranked
Tips - When to go
Tips - Getting to Shangri-La
Tips - Zhongdian name confusion
Shangri-La insights
Photo gallery
More topics
Pronouncing Yunnan names
Yunnan highlights map
Lost Horizon - The book
Lost Horizon - The film
Lost Horizon - Location debate
Also read
Wonders of China - Top 10 rankings
China Wonders map
Chinese cuisine

World's Top 100 Wonders
World's Top 1000 Wonders
Site map
My credentials
About my website and criteria
Reader testimonials