Lijiang tips
avoiding altitude sickness
Be aware of
altitude sickness

Why it
sometimes occurs
The higher the elevation, the thinner its air. Until your respiratory and circulatory systems adjust to a high elevation, your body suffers to some degree from oxygen deprivation. Altitude sickness can result.

Symptoms
They include dizziness, tiredness and headaches - and difficulty in catching your breath when, for example, walking up steps.

Best defense
if you are susceptible
to altitude sickness
First, be mindful of the altitudes of the key cities you will be visiting.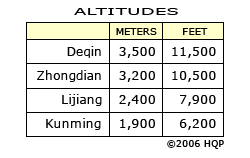 Do your upward journeys in stages so your lungs can more readily adapt to thinner air. This means, for example, don't go suddenly from a low-altitude city (such as Beijing or Xian) to Lijiang on the same day.
Instead, spend at least one full day in Kunming to acclimate your body to its relatively thin air (spend the time visiting the nearby Stone Forest, a Hillman Wonders Bronze Medal winner). This will help prepare your body for the even thinner air in Lijiang.
Then, stay in Lijiang for at least a day or two before heading to Zhongdian or Deqin, where the air is even more rarified.
Learn my other
Lijiang/Shangri La
tips and insights
Lijiang
Top 5- Nearby attraction - Ranked
Tips - When to go and not go
Tips - Avoiding altitude sickness
Tips - Mountain cable car ride
Tips - More
Tips - Some more
Lijiang insights
Photo gallery
Shangri-La
Top 5 attractions - Ranked
Tips - When to go
Tips - Getting to Shangri-La
Tips - Zhongdian name confusion
Shangri-La insights
Photo gallery
More topics
Pronouncing Yunnan names
Yunnan highlights map
Lost Horizon - The book
Lost Horizon - The film
Lost Horizon - Location debate
Also read
Wonders of China - Top 10 rankings
China Wonders map
Chinese cuisine

World's Top 100 Wonders
World's Top 1000 Wonders
Site map
My credentials
About my website and criteria
Reader testimonials