Bangkok
Floating Markets
Travel tips you can trust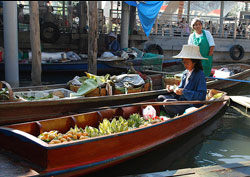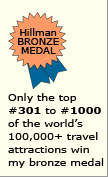 Why the
floating markets of Bangkok
are special
They provide a colorful photo opportunity for camera enthusiasts - and a sightseeing and shopping experience for visitors who don't mind tourist traps.
Floating Market in Bangkok
tips and insights

Damnoen Saduak
is the biggest and most popular
However, a word of warning:

It's no longer its authentic traditional self. In former years, the norm was fresh fruits, vegetables, and fish along with local specialties prepared on small floating kitchens. And most of the buyers were locals. Today, shoddy and overpriced souvenirs and clothing are the prime commodities - and nearly everyone except the vendors, hawkers, and guides are tourists.

It gets so crowded at peak times that boat gridlock occurs. You sit in your boat, going nowhere.
Still, if you've never seen this venue, it could be worth your while if for no other reason than conversation-piece value. Just be sure to go on weekends to avoid Bangkok's infamous workday traffic jams, which will stretch your drive to two hours each way.

More pointers

Taling Chan Floating Market is closer and less touristy, but the setting is less photogenic.

Arrive early. Floating markets lose their energy as the morning passes.

It's not uncommon for unsuspecting floating market tourists to be fleeced by taxis, boats, and guides by overcharging and by taking you to big-kick-backing shops.

Location in Thailand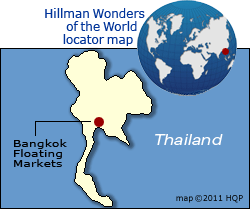 Know these Thailand tips and insights
In Bangkok
Floating Markets
Golden Buddha Statue
Grand Palace
Temple of Dawn
Temple Emerald Buddha
Temple Reclining Buddha
Beyond Bangkok
Ayutthaya Temples
Chiang Mai
Phanom Rung Hist Park
Prasat Hin Phimai
Phang Nga Bay
Phi Phi Islands
Phuket
Sukhothai Historical Park
More pages
Thailand wonders - Top 5 rankings
Thai cuisine - Famous dishes
Market photo by Avkxyx - CC BY SA 3.0

World's Top 100 Wonders
World's Top 1000 Wonders
Site map
My credentials
About my website and criteria
Reader testimonials