Phanom Rung
Historical Park
Travel tips you can trust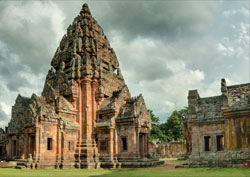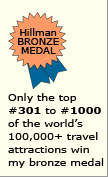 Why the
Phanom Rung Historical Park
is special
This ancient temple complex is acclaimed for its stone carvings, especially those on its lintels. The complex sits eminently on the summit of a gently sloped, modest-height extinct volcano overlooking a sea of rice paddies.
Phanom Rung
Historical Park
tips and insights

Construction history in brief
Phanom Rung was built in stages between the 10th to 13th centuries. After lying in ruins for centuries, the major structures were restored to their current condition the late 20th century.

Architectural style
It's Khmer, a style made famous by Angkor Wat in Cambodia.

Dedication
The temple is dedicated to Shiva, the supreme Hindu god. The 23-meter or 75-foot high main tower (see photo) embodies Mount Kailasa, Shiva's celestial home.

Famous lintels
Phanom Rung's doorway cross beams are celebrated for their intricate bas relief sculptures of Hindu gods. These lintels are intricately carved and of high artistic merit.
One of them became the talk of the art world several decades ago when it was stolen, exported, recognized, and returned home for reinstallation.

Best time of day
Avoid the year-round hot midday sun by coming in the early morning. And, because the temple faces east, the morning solar rays will paint the temple's front with warm colors, the type photographers crave.

Location in Thailand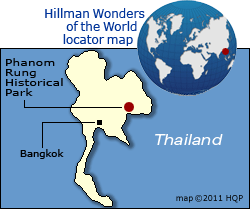 Know these Thailand tips and insights
In Bangkok
Floating Markets
Golden Buddha Statue
Grand Palace
Temple of Dawn
Temple Emerald Buddha
Temple Reclining Buddha
Beyond Bangkok
Ayutthaya Temples
Chiang Mai
Phanom Rung Hist Park
Prasat Hin Phimai
Phang Nga Bay
Phi Phi Islands
Phuket
Sukhothai Historical Park
More pages
Thailand wonders - Top 5 rankings
Thai cuisine - Famous dishes
Photo by Benh Lieu Song - CC-BY-SA-3.0

World's Top 100 Wonders
World's Top 1000 Wonders
Site map
My credentials
About my website and criteria
Reader testimonials