Prasat Hin Phimai
Travel tips you can trust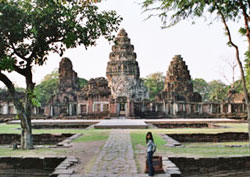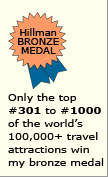 Why the
Prasat Hin Phimai
is special
This nearly one-thousand-year-old temple complex is a classic example of ancient Khmer architecture. And it's in reasonably good condition for its age.
Prasat Hin Phimai
tips and insights

Connection with the
world-famous Angkor Wat
temple complex

In the 11th to 13th centuries, much of what is today's northeastern Thailand was ruled by the Khmer Empire. Its capital was the city where Angkor Wat resides.

Phimai was a major regional administrative center for the kingdom. So naturally, the Prasat Hin Phimal temple complex was built in the Khmer architectural style. Consequently, the Angkor Wat and Prasat Hin Phimai temple complexes have similar designs and layouts.

Which came first, the religious complex in Cambodia or the one here? Some scholars say Cambodia's. Others think that Prasat Hin Phimai was first - and that it influenced Angkor Wat's design. The jury is still out.
Click Angkor Wat to read my web page on this gold medal winning wonder.

Religion switch
For reasons unknown, the Prasat Hin Phimai temple drifted from being Hindu (the faith of the early Khmers) to Buddhist during the 11th to 13th century span.

More Prasat Hin Phimai pointers

Remote
It doesn't get a whole lot of visitors because it's five hours by road from Bangkok and off the beaten tourism track.

Restoration
It was done in the 1960s, but wasn't officially reopened until two decades later.

Height
The main tower is as high as a modern 8-story building.

When to photograph
The temple faces southeast, so arrive early in the morning when the sun's low-angled rays bathe the front facades in golden reddish-orange hues.

Location in Thailand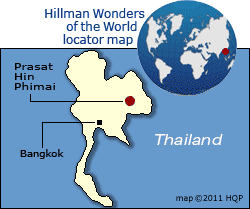 Know these Thailand tips and insights
In Bangkok
Floating Markets
Golden Buddha Statue
Grand Palace
Temple of Dawn
Temple Emerald Buddha
Temple Reclining Buddha
Beyond Bangkok
Ayutthaya Temples
Chiang Mai
Phanom Rung Hist Park
Prasat Hin Phimai
Phang Nga Bay
Phi Phi Islands
Phuket
Sukhothai Historical Park
More pages
Thailand wonders - Top 5 rankings
Thai cuisine - Famous dishes
Temple photo by Oabplanalp - CC-BY-SA-3.0

World's Top 100 Wonders
World's Top 1000 Wonders
Site map
My credentials
About my website and criteria
Reader testimonials