Temple of Dawn
Travel tips you can trust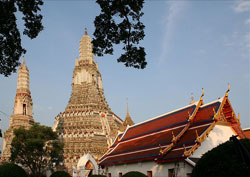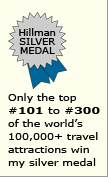 Why the
Temple of Dawn
is special
This imposing 18th Khmer-style Buddhist pagoda in Bangkok is one of Thailand's most treasured icons. It stands as high as a modern 20-story building.
Temple of Dawn
tips and insights

Setting
The riverside Temple of Dawn is cornered by four satellite prangs (pagodas).

Best viewing time
It's at sunset with the reddish-orange sky serving as the backdrop. Whatever the time, the Temple of Dawn complex is more stunning from afar than up close. Photograph it on a boat or on the opposite riverbank.

Building materials
The inner structure is brick, which is overlaid with plaster. The latter is imbedded with thousands of fragments of broken porcelain, glass, and other multi-hued objects arranged in floral, animal, among other artistic patterns.

More pointers

Wat Arum is the Thai name. Arum is the Indian god of dawn.

The Temple of Dawn predates Bangkok.

You can climb its steep steps up to the first terrace for a view of ancient monuments and Bangkok's contemporary skyscrapers. The even steeper and more perilous steps up to the next level are now off limits for safety's sake.

The famous sculpted Emerald Buddha gem was shortly housed in the Temple of Dawn before being transferred in 1785 to the just-built Temple of the Emerald Buddha.

Location in Thailand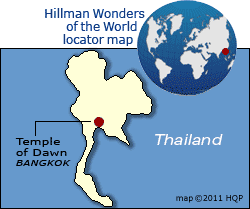 Know these Thailand tips and insights
In Bangkok
Floating Markets
Golden Buddha Statue
Grand Palace
Temple of Dawn
Temple Emerald Buddha
Temple Reclining Buddha
Beyond Bangkok
Ayutthaya Temples
Chiang Mai
Phanom Rung Hist Park
Prasat Hin Phimai
Phang Nga Bay
Phi Phi Islands
Phuket
Sukhothai Historical Park
More pages
Thailand wonders - Top 5 rankings
Thai cuisine - Famous dishes
Photo by Flying Pharmacist - CC-BY-SA-3.0

World's Top 100 Wonders
World's Top 1000 Wonders
Site map
My credentials
About my website and criteria
Reader testimonials