Grand Palace
in Bangkok
Travel tips you can trust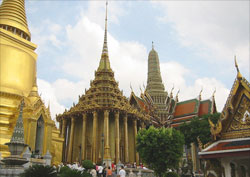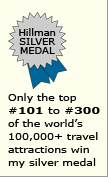 Why the
Grand Palace in Bangkok
is special
The architecture of this two-century-old royal building complex is elaborately detailed. The Grand Palace's Temple of the Emerald Buddha is the star attraction.
Grand Palace
tips and insights

Temple of the Emerald Buddha
This is Thailand's top wonder and a Hillman Gold Medal winner. I cover this architectural masterpiece on its own webpage. Click:

Other Grand Palace
architectural gems
They include the photogenic Dusit Palace and the Thai-European hybrid Chakri Maha Prasat Hall.
Note: You won't see it all. Much of the Grand Palace is closed to tourism because the site serves as Thailand's governmental seat.

When to come

Time of day
Mid-day Bangkok temperatures are scorching the year-round. So arrive at the Grand Palace in Bangkok at 8:30 am when it opens (and as a bonus, your photos won't be tourist-infested). Arriving late in the afternoon won't help because the venue closes at 3:30 pm.

Best season
December and January are the driest months. And temperatures are slightly lower then.

Worst season
March to May is the hottest season and May to October (andparticularly in the last two months of that period) is the rainy season.

Location in Thailand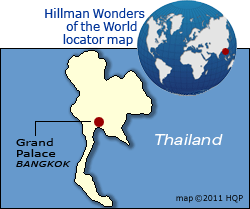 Know these Thailand tips and insights
In Bangkok
Floating Markets
Golden Buddha Statue
Grand Palace
Temple of Dawn
Temple Emerald Buddha
Temple Reclining Buddha
Beyond Bangkok
Ayutthaya Temples
Chiang Mai
Phanom Rung Hist Park
Prasat Hin Phimai
Phang Nga Bay
Phi Phi Islands
Phuket
Sukhothai Historical Park
More pages
Thailand wonders - Top 5 rankings
Thai cuisine - Famous dishes
Palace photo by Paul Brockmeyer - CC BY 2.0

World's Top 100 Wonders
World's Top 1000 Wonders
Site map
My credentials
About my website and criteria
Reader testimonials