Phi Phi Islands
Travel tips you can trust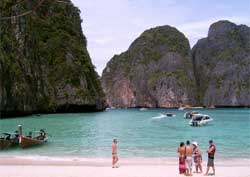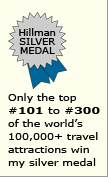 Why the
Phi Phi Islands
are special
They combine fabulous snorkeling and diving with a stunning seascape.
Phi Phi Islands
tips and insights

How to pronounce
Phi Phi = pee pee (not fee fee)

Geography in brief
This group of six islands lies east of Phuket and south of Phang Nga Bay, which are also Hillman Wonders of Thailand. The two major islands are:

Ko Phi Phi Don
It's the largest and comprises two large mountainous land masses connected by a narrow isthmus.
The island as a whole is lovely. But the sandbar-like isthmus is packed with bars, eateries, dive centers, and tourist shops - hardly a vision of paradise.

Ko Phi Phi Leh
The second largest island is famous for its beautifully seascaped Maya Bay.

Chief tourism appeals The top three Phi Phi draws a
The top three Phi Phi draws are snorkeling, diving, and sea kayaking.

Maya Bay
Its beach and bay (see photo) was a primary shooting location of 2000 movie "The Beach" starring Leonardo DiCaprio. This film made Maya Bay known around the globe as a paradise to visit. Unfortunately, due to this popularity, the site's tranquility is shattered from 9am to 5pm by a bevy of tour boats laden with day trippers out of Phuket.

When to come
The best period is from January to April, the dry season. Monsoon rains occur in the May to October period..

2004 Tsunami
Both of its major islands were severely damaged by that horrific tsunami. Nearly a thousand tourists and locals perished.

Location in Thailand
Know these Thailand tips and insights
In Bangkok
Floating Markets
Golden Buddha Statue
Grand Palace
Temple of Dawn
Temple Emerald Buddha
Temple Reclining Buddha
Beyond Bangkok
Ayutthaya Temples
Chiang Mai
Phanom Rung Hist Park
Prasat Hin Phimai
Phang Nga Bay
Phi Phi Islands
Phuket
Sukhothai Historical Park
More pages
Thailand wonders - Top 5 rankings
Thai cuisine - Famous dishes
Phi Phi photo by Mr Bullit - CC-BY-SA-3.0

World's Top 100 Wonders
World's Top 1000 Wonders
Site map
My credentials
About my website and criteria
Reader testimonials