Temple of the
Reclining Buddha
Travel tips you can trust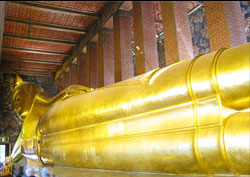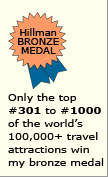 Why the
Temple of the Reclining Buddha
is special
This Bangkok temple houses an extraordinary gold-plated Buddha statue measuring 46 meters (150 feet) in length.
It depicts the perishing Buddha transcending from mortal life into a state of nirvana.
Besides its length, the 19th century reclining Buddha statue is known for its serene facial expression and its oversized, mother-of-pearl inlaid soles.
Temple of the
Reclining Buddha
tips and insights

When to go
Arrive early or late in the day when tour bus groups are few or nonexistent. Otherwise, the desired serenity of the venue will be spoiled by a bevy of loud-talking tour guides in a tight space.

Setting
The Temple of the Reclining Buddha resides in the large walled compound of the Wat Pho temple complex, which sits next to the Grand Palace.

Wat Pho pointers

The Temple of the Reclining Buddha is by far its most popular attraction. Most visitors come to see only it.

A major tourism shortcoming with Wat Pho in general is its diminished historical authenticity. Nearly all its structures are restorations and bear slight resemblance to the original ones.

However, Wat Pho has some venues of interest, including the Chedi pagodas, the Ubosot hall's altar and statue, and the thousand onsite Buddhas.

The globally known traditional Thai massage style originated here and is offered to visitors at a reasonable price.

Location in Thailand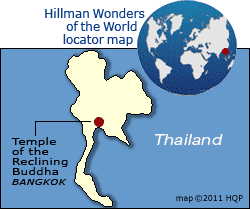 Know these Thailand tips and insights
In Bangkok
Floating Markets
Golden Buddha Statue
Grand Palace
Temple of Dawn
Temple Emerald Buddha
Temple Reclining Buddha
Beyond Bangkok
Ayutthaya Temples
Chiang Mai
Phanom Rung Hist Park
Prasat Hin Phimai
Phang Nga Bay
Phi Phi Islands
Phuket
Sukhothai Historical Park
More pages
Thailand wonders - Top 5 rankings
Thai cuisine - Famous dishes
Buddha photo by Aimaiyi - GNU 1.2

World's Top 100 Wonders
World's Top 1000 Wonders
Site map
My credentials
About my website and criteria
Reader testimonials