Best time to visit
Bangkok
advice you can trust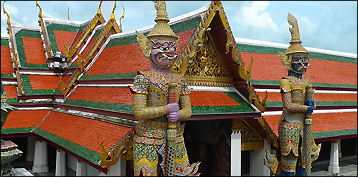 Bangkok -
The best and worst
times to visit
Insights you need to know

Best times
November to February
Bangkok has a true tropical climate. Therefore, the city will often be hot, humid, and rainy. But those three variables will be less severe in the mid November to February period than you would experience in Bangkok's "least desirable times" period.

Least desirable times
May to October
Be prepared for heavy rains (including monsoons), sweltering temperatures, and energy-zapping humidity up until about mid October.

World's #1
Bangkok has the dubious distinction of being the hottest big city on earth.

Know when to go
and not go to other
travel destinations
Click More best and least desirable times
Learn my other
Greece tips & insights
In Bangkok
Floating Markets
Golden Buddha Statue
Grand Palace
Temple of Dawn
Temple Emerald Buddha
Temple Reclining Buddha
Beyond Bangkok
Ayutthaya Temples
Chiang Mai
Phanom Rung Hist Park
Prasat Hin Phimai
Phang Nga Bay
Phi Phi Islands
Phuket
Sukhothai Historical Park
More pages
Thailand wonders - Top 5 rankings
Thai cuisine - Famous dishes
Bangkok photo by Coolinsights - CC BY 2.0

World's Top 100 Wonders
World's Top 1000 Wonders
Site map
My credentials
About my website and criteria
Reader testimonials