Safari booking
mistakes
Safari tips you can trust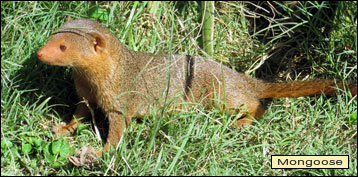 Booking without
first vetting

Don't take a risk
Never book with a budget-safari category operator or agent without first thoroughly checking it out. Incompetent and unscrupulous operators outnumber the reputable ones in that category. Book with the wrong one and you could possibly:

Face departure delays, sometimes measured in days

Have an inept or uncaring guide

Ride in a crowded, run-down safari vehicle that breaks down in the middle of nowhere

Camp out under conditions worse than promised

Pay for extras that are normally part of a safari tour price

Lose your investment

Best bets
It's generally safest to book your safari tour through your local travel agent or directly with the safari operator via its website.

Safari-booking websites
Hundreds of safari-booking websites exist. Be aware that while most are reliable and trustworthy, some go in and out of business, leaving customers in the lurch. Select with care.

Deal with the best
The best safari operators are usually the most successful. Because they have healthy revenues, they can afford new vehicles, good maintenance and competent guides. Financially struggling firms are more apt to use old, ill-maintained vehicles and hire rookie guides who learn their trade literally at your expense.


Booking after
you arrive

The cost of waiting
I recommend you book your safari before arriving in a safari country - and if you are going on a high-season safari, do it months ahead of time. If you don't pre-book and the vehicles and driver-guides of all the reliable operators are fully booked (it happens), you may have to hang around town (no fun) for several days or more waiting for a tour opening. Or, in desperation, you end up booking with a disreputable outfit.
Learn the other
safari mistakes


Binoculars
Booking
Cameras
Clothing
Costs
Dining
Group tours
Guides and drivers
Health and safety
Learning
Tents
Timing
Transfers
Vehicle type
Top 10 mistake rankings


Top 5 safari destinations
Kenya vs Tanzania
What it's like on a luxury safari
Big 5 safari animal list
Animal facts & tidbits
Photo by David Berkowitz - CC BY 2.0

World's Top 100 Wonders
World's Top 1000 Wonders
Site map
My credentials
About my website and criteria
Reader testimonials