Safari cost
mistakes
Safari tips you can trust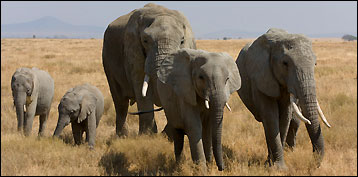 Budgeting too little
for your safari trip

Skimping
A safari is a once-in-a-lifetime experience, so you could later regret it if you skimp. When planning your safari, make the most of it.
While I've found that some travelers go beyond their doable budget, most do the opposite.


Not knowing
the real cost

Rate range
Some travelers have only a hazy idea of safari rates. To give you a rough idea of them, I list below current safari-tour prices. They are the typical per-person-per-day rates based on double occupancy for the high season (and will vary by locale). Low-season prices are about 25% lower.

For packaged bare basic camping safaris, plan on US$150 to US$200.

For packaged mid-range lodge or camping safaris, count on US$250 to US$400.

For packaged luxury lodges and camps, expect a US$450 to US$650 charge.

For a private tour safari for two people, increase the packaged tour prices by 25 to 33% - and for a foursome, by 10 to 20%.

What's included
Learn ahead of time exactly what's included before you book. Normally, these are covered by the rate:

Accommodations

Meals

Game drives

Park fees

Lodge/camp transfers
And these normally are not:

Tips

Laundry

Alcohol

Phone calls

International airfare
Different safari operators have different inclusion and exclusion policies. Always check first.
Learn the other
safari mistakes


Binoculars
Booking
Cameras
Clothing
Costs
Dining
Group tours
Guides and drivers
Health and safety
Learning
Tents
Timing
Transfers
Vehicle type
Top 10 mistake rankings


Top 5 safari destinations
Kenya vs Tanzania
What it's like on a luxury safari
Big 5 safari animal list
Animal facts & tidbits

World's Top 100 Wonders
World's Top 1000 Wonders
Site map
My credentials
About my website and criteria
Reader testimonials