Safari dining
mistakes
Safari tips you can trust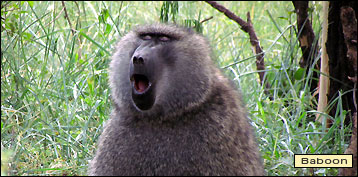 Expecting gourmet
food at a safari
lodge or camp

Not high-end gourmet
Luxury safari kitchens are not gastronomic temples, nor do they try to be one. You are in a remote natural environment and the focus is on the wildlife, not wild thyme. Still, the food is admirable - and clearly superior to what is prepared at sub-luxury safari lodges and camps.

Handicaps
It's important to recognize that safari chefs (including those in luxury venues) face some culinary handicaps that few restaurants suffer. Your lodge or camp is in the middle of nowhere, distant from the nearest town. All the food has to be trucked in through the wilderness over rough dirt roads.

For practicality's sake...
Much of the food shipped to the lodges and camps has to be frozen and stockpiled in bulk in freezers (just in case the dirt roads become muddy and impassable for days).
Learn More

to see more dining mistakes
Learn the other
safari mistakes


Binoculars
Booking
Cameras
Clothing
Costs
Dining
Group tours
Guides and drivers
Health and safety
Learning
Tents
Timing
Transfers
Vehicle type
Top 10 mistake rankings


Top 5 safari destinations
Kenya vs Tanzania
What it's like on a luxury safari
Big 5 safari animal list
Animal facts & tidbits
Photo by David Berkowitz - CC BY 2.0

World's Top 100 Wonders
World's Top 1000 Wonders
Site map
My credentials
About my website and criteria
Reader testimonials