Safari group tour
mistakes
Safari tips you can trust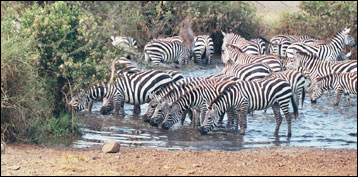 Not fully
understanding the
drawbacks of a
group safari tour

Crowding
Your vehicle may be crammed. Not only will this be uncomfortable, it will obstruct your panoramic view while seated.

Pop-up-roof time
If your vehicle has a pop-up roof, use may be on a rotating - therefore limited - basis. And, if not, other passengers may elbow you to get the best photographing position.

Lower-quality guides
Group tour driver-guides are generally less friendly, accommodating, articulate and knowledgeable than private tour safari guides. They are more likely to recite dull memorized spiels instead of spontaneously tailored commentary.

Undesirable vehicle mates
You risk suffering travelers who, for example, incessantly talk, argue, tell bad jokes, or irritatingly laugh.
Learn more group tour mistakes

to see them


Binoculars
Booking
Cameras
Clothing
Costs
Dining
Group tours
Guides and drivers
Health and safety
Learning
Tents
Timing
Transfers
Vehicle type
Top 10 mistake rankings


Top 5 safari destinations
Kenya vs Tanzania
What it's like on a luxury safari
Big 5 safari animal list
Animal facts & tidbits
Photo by Codeispoetry - CC BY-SA 2.5

World's Top 100 Wonders
World's Top 1000 Wonders
Site map
My credentials
About my website and criteria
Reader testimonials